We publish expert content on starting, growing, managing, engaging and monetizing Facebook groups for business. In this page, we have collected all our articles to guide your learning. Use this as our repository of all the expert Facebook Group knowledge.
Wondering where to start with creating your group? We have you sorted!
Understanding Facebook
We sometimes write about trends, industry developments and generally important insights from the Facebook world. In this section, you can find our articles of this kind.
Facebook Groups turned 10 in October 2020 and at the annual Community Summit, we learned all about the latest feature announcements coming to Facebook Groups.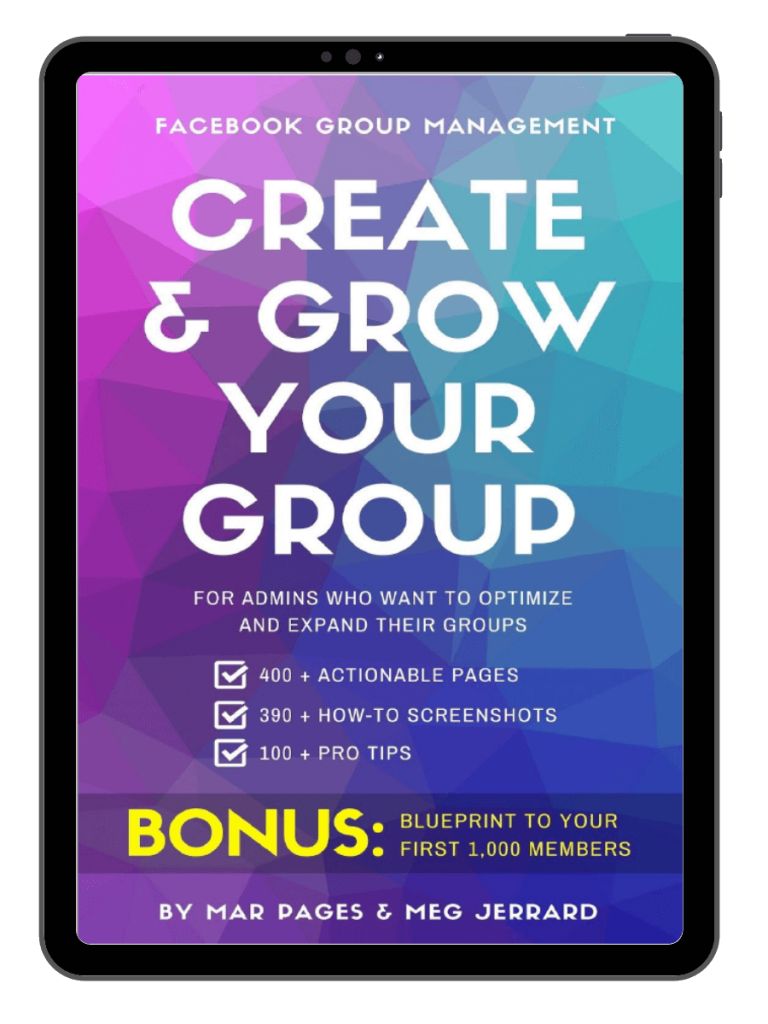 Learn Our Secrets to Growing 15 Groups to

100k + Members

! Get Our E-Book!
400 + Actionable Pages
390 + How-to Screenshots
32 Proven Unpaid Growth Strategies
My group has exploded using your strategies. A competing group actually asked me how I was growing so quickly!!
Create your Facebook group
All the resources for starting a Facebook group are included below. Don't forget to have a look at our eBook Create & Grow Your Group.
Grow your Facebook group
We are experts in starting and growing groups in various niches. Below are our published expert advise to help you supercharge and explode your group's growth.
Group Leads review: our secret weapon to efficiently and effectively manage our groups and ensure we collect email leads. Group Leads is an automation tool to manage membership requests and new members welcome which eliminates the need to copy paste. You can collect all the details of your new members into a spreadsheet and transfer this to your favorite email marketing tool or CRM.
How to run a successful contest on Facebook, all our tips and advice from running contests for years, including inspiration and ideas, Facebook contest rules you need to follow, key success factors and a detailed process to launch yours.
Ever wondered what the largest and most popular Facebook Groups are? We put together a list that you can use for inspiration, learnings and benchmarking purposes.
Tools and expertise to grow a Facebook group are also explored in detail in our Create & Grow Your Group eBook.
Manage and engage your Facebook group
In this section we have include all our tools and expertise to help you manage and moderate a Facebook group while keeping it engaged.
Streamyard review: live streaming tool that allows you to go live in groups, pages and other online destinations. Live videos are an incredible tool to keep your group engaged and Streamyard is the tool we use and recommend. It allows you to have guests come live with you, share screen, brand your video and add other interactive elements.
Efficiently and effectively moderate your group with one of the most useful group features: Facebook Group rules. Learn what they are, how to set them up and why you need them. We have also included a list of best practice rules you can reuse or adapt to your group's needs.
Monetize a Facebook group
Coming soon