This article is a review of Group Leads, our most powerful Facebook Group Admin Tool and one we strongly recommend if you are serious about growing and managing your group but want to automate and be as efficient as possible with your time.
Picture this.
You create a Facebook group for your business with the idea of converting members into customers. Naturally, you use the membership questions to ask for members' email addresses. Then your business takes off and you start getting dozens of members every day.
It's great, because each of them is a potential customer, but you spend 1h a day just copying and pasting email addresses and member details into a spreadsheet.
This happened to us in a couple of our groups. We were getting 1,000-1,500 new member requests every day and spending 4-5h a day just collecting details.
While it was a great problem to have, it was adding very little value to the business and consuming a lot of our valuable time we needed to spend in growing our business and nurturing our customers. We also found we were occasionally pasting the wrong details.
We knew we could not be the only ones. The had to be someone who had found a solution to this, so we searched and searched.
Thankfully, we found Group Leads which is a Chrome or Firefox extension that allows you to automate the approval and rejection of new members, the welcome messages and tagging to welcome posts, and the collection of new member details into a spreadsheet, including email addresses if they provided them, and subsequently funnel them into an email marketing tool. 
Since we started using it, we save those 4-5 hours a day and are able to automate several tasks such as welcome posts, automatic tagging, automatic approval and rejections, etc. which save us further time and help us keep the group engaged. What is more, when we approve a new member they get added to a spreadsheet and then on to our email marketing funnel.
Let us say this again.
EVERY TIME A NEW MEMBER GETS APPROVED, THEIR DETAILS ARE ADDED TO A SPREADSHEET AND THEIR EMAIL ADDRESS TO YOUR EMAIL MARKETING TOOL WHERE A WELCOME FUNNEL IS TRIGGERED.
Yes, it is as amazing as it sounds.
We can't recommend Group Leads enough and consider it our Secret power tool to grow and manage our groups, and if you are serious about growing and monetizing your group, you should start using it too.
In this article, we will review Group Leads, explain the use cases for the tool, how to set it up and how to make the most of it.
Pro tip: Group Leads offers you a 7 day trial period so you can see if it is worth it for you and the benefits it has. Try for yourself and see how it can help your business.
what is Group Leads
In a nutshell, Group Leads is a Chrome or Firefox extension that allows you to automate several tasks in your Facebook group.
The most valuable feature is the ability to automatically approve all the pending membership requests to your group and send all the details of each of your new members and the responses to their membership questions to two places: a spreadsheet and your email marketing tool. All, with just one click.
That means that when a member is approved to join, their email address is automatically added to a new email funnel and this, opens a world of possibilities.
You can send them a piece of content you promised as part of the group membership, you can add them to a welcome sequence, or you can direct them to a marketing funnel based on their responses to the membership questions.
The marketing opportunities are endless but the bottom line is that Group Leads allows you to convert Facebook group members into customers without any manual errors or time spent. And that is priceless.
While the automatic approval and data collection is a reason enough to use Group Leads, there are other worthy features that are a nice add-on and which we will look at in the next sections.
Why you should buy Group Leads today
The first question you are wondering is: Why should I pay for Group Leads, when I can continue to do everything manually, simply copying and pasting each new member details into a spreadsheet and then using Zapier to send these details to my email marketing tool?
We strongly believe that no matter how large or complex your sales funnels are, the business case for getting Group Leads is a no brainer.
If you have a large group or one that is growing fast, using a tool like Group Leads will save you time and money. You will see the results and the efficiency gains straightaway which will make the tool worth every penny.
If your group is still small but you are committed to your group's success, investing in Group Leads is the first step towards solidifying that commitment.
Let's assume that you are adding between 5 to 10 people a day, you may think that you don't need a tool and you can do it all manually or hire an affordable virtual assistant to do it for you for less, but that underestimates the real costs of that and misses on other great features. Let's take a look at the advantages if Group Leads for a small group.
Time saving
The most important advantage of an automation tool is the time saving, time that you could be using for productive and strategic work rather than mind numbing tasks that add no value to your business. If you get lost in doing administrative tasks instead of meeting clients, delivering projects, marketing your company, etc. you are stalling your business growth and success.
Cost savings
Time is money, so using Group Leads is a cost saving measure.
When we think of time many of us are apprehensive about investing on a tool for something we can do ourselves easily. But our time is money, because if we are spending it on non-productive and non-strategic tasks we are not spending it on what truly pushes our business forward. And if we hire someone else to do this for us, then the cost is even more evident.
Let us do a quick math for you.
If you have 10 new members a day and each of them takes you 1 minute to upload into a spreadsheet (to copy and paste their name, profile link, membership questions, etc.) that is 10min to get their details. You then need to either use Zapier automation to send each new joiner to your email marketing tool or manually upload that file into your email marketing tool which is another 10min, including the time it may take to sort out any problems or errors there may have been.
You will then copy and paste their names into your welcome message, making sure Facebook is tagging them properly which will take another 10min. Total time: 30min.
If you have to hire a VA at a rate of $25/hour that is $12.50 per day, extrapolate to a month and you soon realise that those 10 new member approvals a day which seemed pretty small, are actually costing you a small fortune not to mention that Zapier automation is only free up to 1,000 tasks a month.
Instead, simply spend $17 a month and do it all with Group Leads. No brainer.
No human error
Of course, if you hire a person or do the above process yourself, there is the risk of making a mistake and wrongly copying someone's name, email address or details. An automation tool does not make mistakes.
Advanced features
Group Leads has several advanced features that would be very time consuming to do manually. We are talking about automatic welcome messages, reminders or rejections for those who have not answered the membership questions.
These rejections can be done with a personalised message to the person that invites them to reapply and answer them or you can send a reminder to members who have not answered the membership questions to fill them up before rejecting them. You can also automatically reject members based on keywords in their answers. Doing all these manually would take a lot of time.
You know what we like the most about Group Leads? That it is magic.
We set each group from the start and then forget about it. Every time, we just need to filter members we don't want to approve, hit the Approve all red button and BOOM! All the rest happens in autopilot and without any errors.
group leads review: Amazing things you can do with the tool
We have probably convinced you to get Group Leads just with the time and cost savings, but now let us tell you the features and use cases for the tool beyond the simple approval process automation. These are the details that make the extension so useful and powerful for group admins.
Check out our walk through of the tool in the video below where we show you the main features of Group Leads and how you can use them to supercharge your business.
Automatic member approval
It is pretty easy to go in and hit Approve all to let all the pending member requests in after you scan them for anything odd but Group Leads takes this one step further with its Automatic member approval feature. This allows you to automatically approve new members if they fulfil certain criteria.
Facebook gives you this option too, but as we have seen in the previous section, the options are limited to current location, having at least one friend in the group and time on Facebook. With Group Leads, you can auto-approve members based on more advanced data points.
You can set it to approve members who:
Have given you their email address.
Have answered all questions.
Have a certain number of friends in the group (Facebook allows you to pre-approve members with at least one but Group Leads lets you determine how many)
Have any groups in common with you (eg. if they were good enough for Group A then they are good enough for Group B).
Have been on Facebook for more than 1 month, 3 months, 6 months, 1 year, 2 years, 3 years (these are more options than Facebook's automatic approval)
Are location or live in a specific place, vs. Facebook's automatic approval option of Currently in.
Have a number of groups in common with you.
Have accepted the group rules.
Are of a specific gender.
This allows you to automatically approve members even if your moderators or admins are not awake, and is particularly important to show you are there all the time and to approve time-sensitive requests, for example if you are going live or delivering a session in your group and have been promoting it outside your group.
Tag new members in a welcome post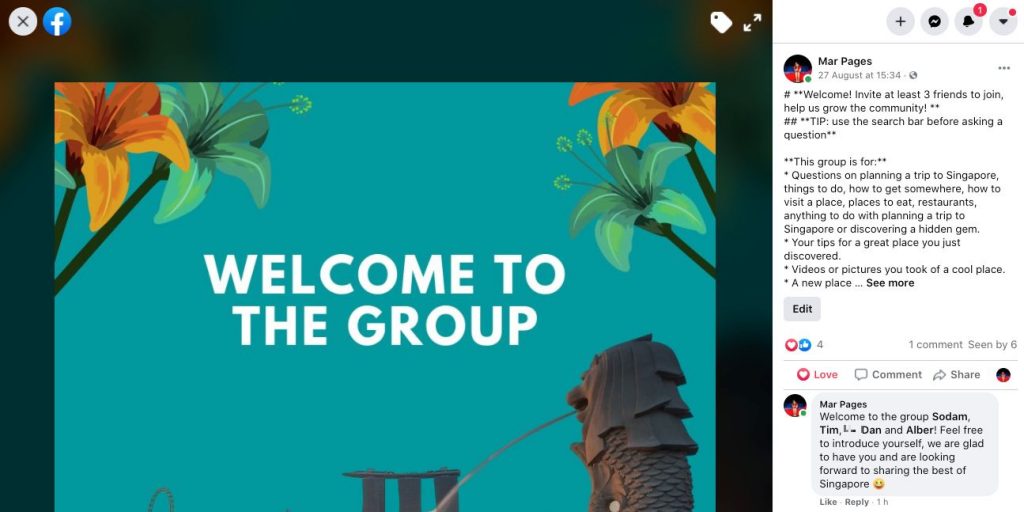 Group Leads allows you to tag the members you approve to a welcome post in the group. You can even customize the welcome message and add a few variations of the message and randomise it so it is not always the same.
You can then choose to tag them individually or in batches in the welcome post. If you choose to tag them in batches, the messages will be split into a maximum of 50 people per message to keep it to Facebook's limit.
Welcoming all new members in a post is helpful to give them a warm welcome and remind them of any resources or products you offer. Because the post will have everyone on it, they can also see previous members' introductions and businesses and already connect.
In our opinion, it is a less spammy way of welcoming new members than creating a new welcome post every time you approve new members which can be annoying for your existing members. When we discuss Proven strategies to grow your group we will come back to this point again.
Automatic decline
To minimise spam, you can auto-decline members based on specific keywords in their answers. When you use the keyword, no message is sent, as this is a feature designed to reject spammers so they will simply be rejected.
For example, a lot of bots tend to respond Yes to the first question. This is because it is common for admins to ask a Yes or No question that makes people acknowledge something (like, have you read the rules, are you a human etc.). If Yes is answered, you can automatically reject those requests to join.
This is a great feature, however, we prefer to manually decline members who appear to be bots or spammers because then we can decline and block, so they do not try again.
If the auto-decline option from Group Leads based on keywords works for you then it does not matter if they try again because they will automatically be declined. However, bots can become more sophisticated and find ways to avoid the keywords.
Send reminder to answer the membership questions
Group Leads launched a new powerful feature at the beginning of November that now allows admins to send reminder private messages to members who have not yet answered the membership questions. This resolves a pain point a lot of Community Leaders face and it a great time saver and lead collection maximizer.
Auto-decline message
The same way you can automatically approve members who fulfil a certain criteria, you can also decline them if they haven't answered the membership questions and even send them a Facebook direct message when you do.
Your rejection message can be tailored with fields such as the name of the user, the name of your group, etc. This is a good way to simply reject people who have not filled in your questions and remind them to rejoin and fill them in.
Because you are adding barrier to entry, you are also making the group more exclusive and ensuring your members are of higher quality.
Welcome direct messaging
Group Leads has a nifty feature to welcome all your new members via a direct Facebook message. This is a very powerful tool if you want to create a next level of personalisation.
Pro tip: If your group is growing really fast, you need to be careful with direct messaging too many members which may put you in Facebook jail. Group Leads lets you stagger that and wait for a few minutes but if you start to get reported by your members, don't get many replies or do too many of those, you will end up being banned.
You can personalise the welcome message with fields such as user name or group name and randomise them based on a few templates that you create, so that you appear less spammy to Facebook and to members who may know each other.
Welcome messages are very powerful. You can use them to let your new members know of a resource or a course, to remind them to use the search feature or the group topics, to invite them to make their first post or to introduce themselves.
Integration with any marketing software
Besides all the cool features above, Group Leads is incredibly powerful because it can integrate with a very long list of online marketing tools beyond your basic email marketing system.
You can send your leads to Hubspot, Klaviyo and a few dozen email marketing tools such as CovertKit, ActiveCampaign, MailerLite, MailChimp, etc. and then trigger immediate actions depending on their answers.
Group leads review: How to set it up
Now that you know the advantages of using an automation tool and the features that Group Leads has, we need to get down to installing it and setting it up. The first step is purchasing a license.
Go to the Group Leads website and Click on either the Get access for free or the Get instant access buttons, they will both take you to the registration page.
The registration page lists the type of subscriptions. Group Leads has 3 pricing options, the differences between the 3 of them are pretty obvious.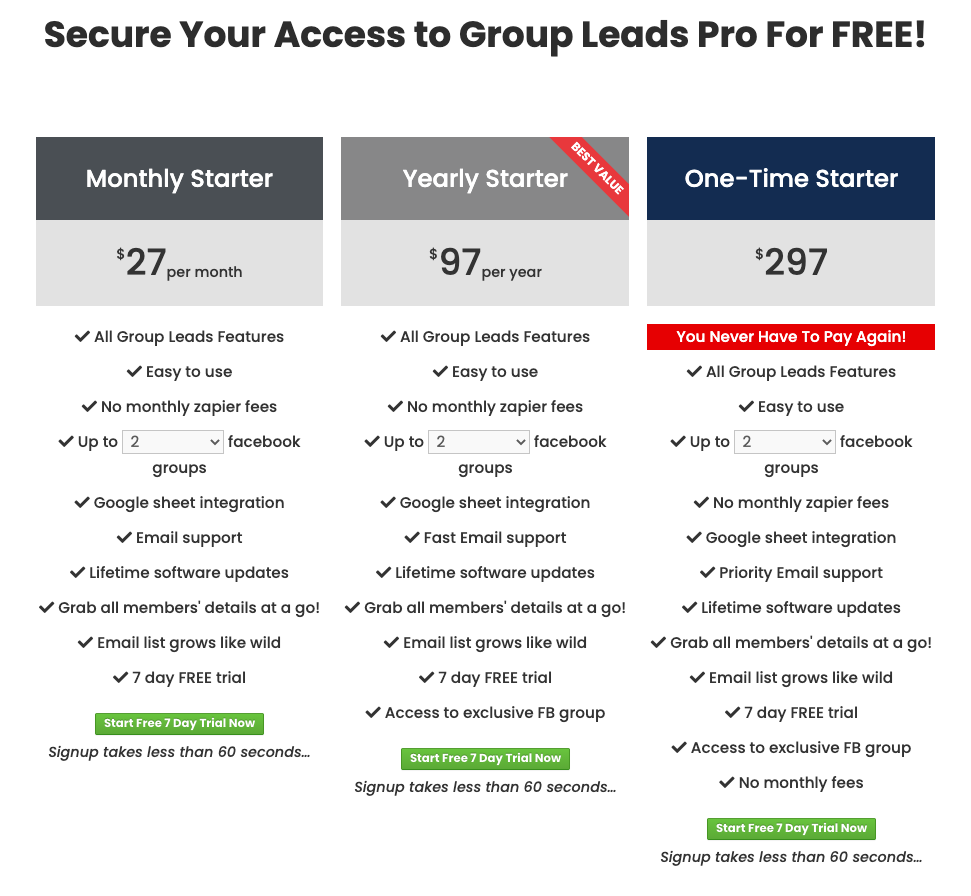 Below is a brief description of the 3 options:
Starter: Single use license which you can use in 2 Facebook groups.
Pro: Which allows you to have up to 4 Facebook groups.
One-time: Which gives you unlimited access to the tool for life. This is the license we have.
If you have more than 4 Facebook groups, you will have to get a lifetime license. If you have less than 4, the Pro license will be enough for you. It makes no sense to purchase the monthly license because your savings vs. the Pro start to kick in after 5 months.
Click to start the 7-day free trial of the chosen plan (We recommend Pro) and you will be asked for an email address.
Follow the process and enter your credit card details (you will pay nothing for the first 7 days, after which the trial will end and you will be charged) to complete the transaction on Paypal or with your credit card.
Once the purchase is completed, you will receive your license key in your email along with a tutorial for setting up the extension which you need to add to your browser via the browser extension marketplace.
Pro tip: We recommend you set up a calendar reminder on day 6 so that you can go in and see if you want to upgrade to the paid plan or stop using Group Leads.
Setting up Group Leads is very easy but if you run into any issues, Jamiu, the founder, will jump on a Zoom call with you anytime to help walk you through the process. We must admit that the set up process is for dummies and to prove it, here are the detailed steps.
Add your group to Group Leads
The first step is to add your group to Group Leads. Click on the browser extension icon on the top right of your browser window and Add this group to your account.
As soon as you click Add this group, it will appear in the Group Leads panel. You then have two main settings icons, the wheel on the left and the spreadsheet with the wheels on the right. If you want to remove your group from Group Leads you just need to click on the trash can.
Learn Our Secrets to Growing 15 Groups to

100k + Members

! Get Our E-Book!
400 + Actionable Pages
390 + How-to Screenshots
32 Proven Unpaid Growth Strategies
My group has exploded using your strategies. A competing group actually asked me how I was growing so quickly!!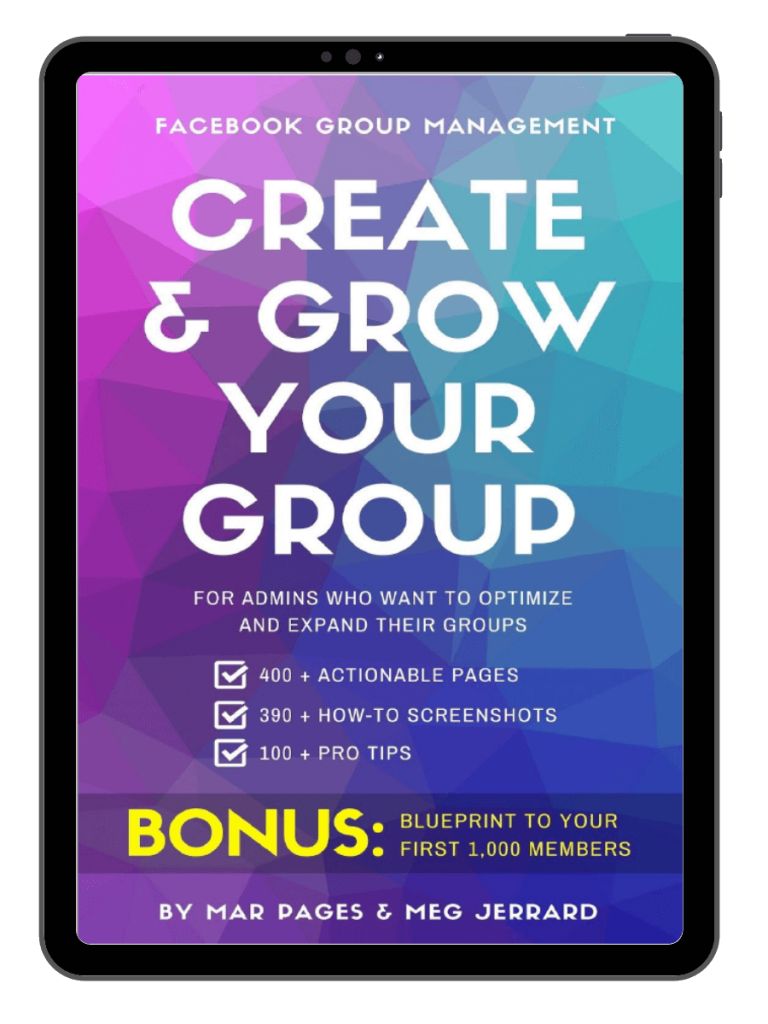 Create a spreadsheet
In order to start creating an automation, you will have to create a Google Sheet to collect your member data. This is the spreadsheet where all your member data gets collected and it needs to be in a specific format so that it matches with Group Leads and the extension knows where to copy what information.
Creating this spreadsheet is very easy because Group Leads gives you a template you can simply replicate. Click on the wheel on the left next to the name of your group and you will see the panel to automate member approvals.
Click on Make a copy of this spreadsheet & format and a Google sheet will open, You then need to go to File -> Make a copy so that you can edit your own.

Rename the your copy as the name of the group, for example, Solo Female Travelers Group Members. And then change the sharing settings so that the document is visible to all.
You do that by clicking on the big green button at the top right of the document, then changing the sharing settings.
Lastly, copy the share URL of the sheet and paste it in the Group Leads extension panel and hit Verify to make sure the sheet is fine and accessible by Group Leads. The Make sure to click the blue Update button so your changes are saved.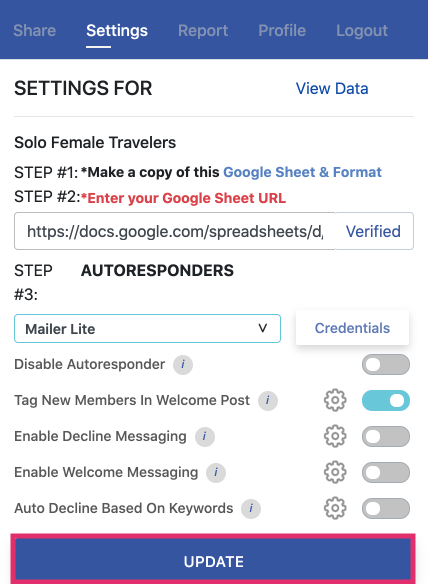 Now you have connected a spreadsheet to your Group Leads so that the new members data is collected there but you need to link that to your email autoresponder so that you can add them to your email marketing tool and send them to a welcome funnel. Don't forget to click Update so your changes are saved.
Connect your email autoresponder
Each email autoresponder works differently and you will have to follow the instructions for each of them that Group Leads provides after you select your preferred one. Choose from the drop down menu and then click on the Credentials button.
Depending on the autoresponder you choose you will need to fill in different fields to link group Leads to it. Group Leads will guide you through the process in their tutorial.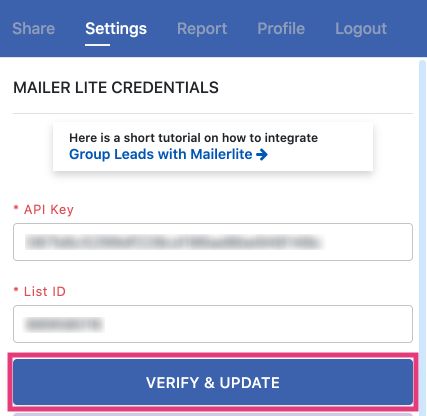 In almost all cases you will need to create a group or email list to collect the email addresses so you will need to create that in your email marketing tool. As you can see from the screenshot above, for MailerLite we need the List ID and the API key so we will create a new group in MailerLite where all the email addresses get stored.
Don't forget to click Save and then Update in the previous screen.
Set up any auto approvals
If you plan to auto approve members based on certain rules, you can do that with Group Leads after you have set up your spreadsheet. Navigate to the icon with three wheels and a document and click to open the options for automatic member approval.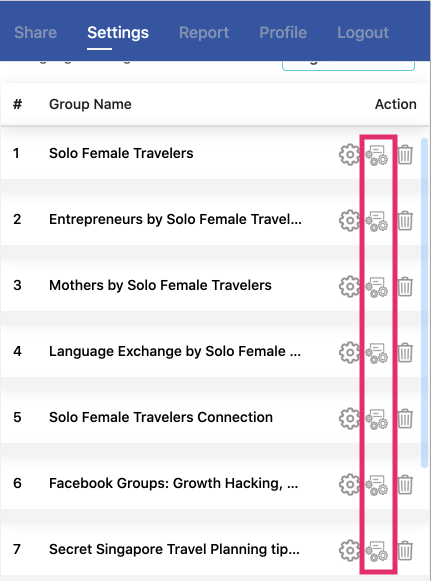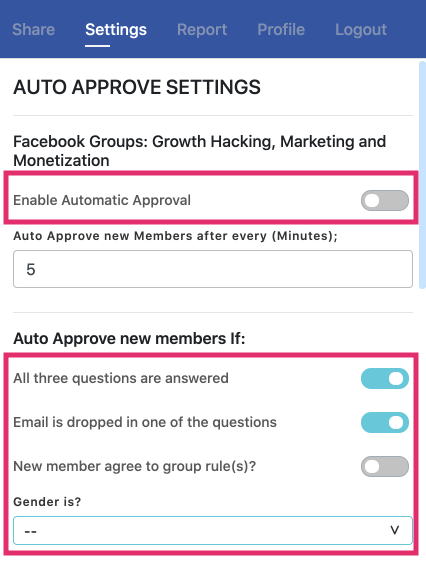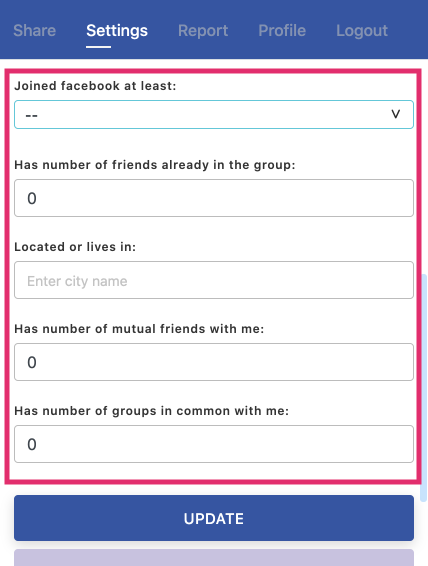 Decide the options that you want to approve members based on and you will not have to take care of them yourself.Every time a new member who mets the conditions requests to join, they will be auto approved and their details added to your spreadsheet.
Pro tip: Members who are auto approved will not be tagged in a welcome post or be sent direct messages.
Setup the welcome message to tag new joiners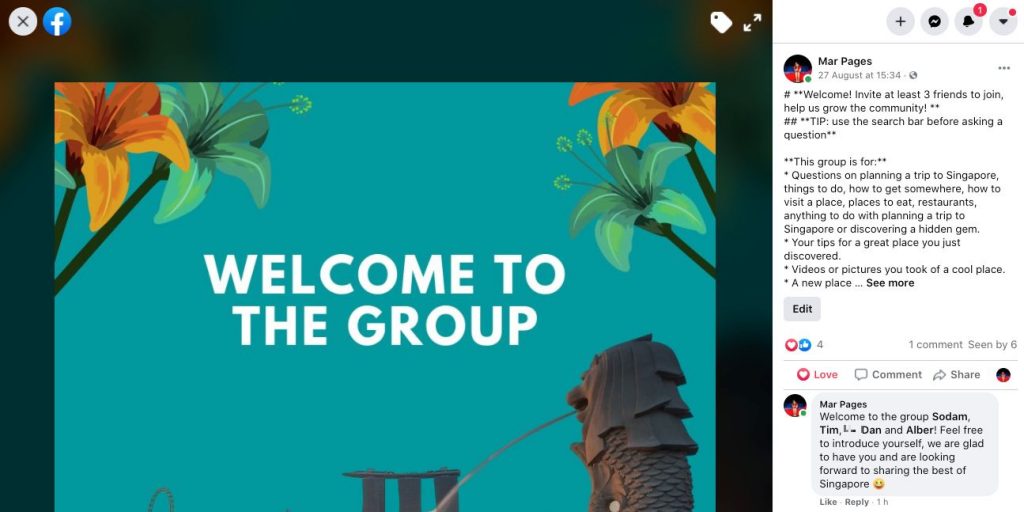 After your autoresponder is set, let's make sure there is a welcome message for all the new members you will be approving. You will need to first create the welcome message in your group and then copy the post ID. Your welcome message is a great opportunity to warmly welcome new members, remind them of the rules and offer any freebies you may have for them.
After the welcome message is published, you need to copy the post ID.
If you have Group Leads installed, you can click on the 3 dots at the top right of the welcome post and you will see an option with the Group Leads icon that reads Copy Post ID, just click there and the post ID will be copied to your clipboard.
If you don't have that option, finding the post ID is quite easy, just click on the date/time of your welcome post and then look at the URL in the top bar.
Remove "/group/[name of your group]" from the welcome post URL and that is your post ID.
For example, for the post ID of our welcome post in the Secret Singapore Travel Planning group this is how you would get the welcome post ID:
From: https://www.facebook.com/groups/SingaporeTravelPlanningSecrets/834926830645344
To
https://www.facebook.com/834926830645344
With the post ID, head back to the Group Leads extension and toggle ON the option for Tag new members welcome post, then click on the wheel to enter the settings. You can type your welcome message here, paste the post ID and even add more than one message which you can randomize.
You can pick if you prefer to tag all new members you approve at one time in the same comment or individually.
Group Leads does the tagging with a maximum of 50 users at a time in one comment, then the next 50 in the next one and leaves some time between each comment, that is to avoid upsetting Facebook.
If you decide to tag them individually, it'll take a moment per user and make the comments really long. The choice is entirely up to you but we would recommend you tag everyone in the same comment because it is more efficient.
When you're done, don't forget to click Save and then Update in the previous screen.
Pro tip: If you have a lot of members to approve, we highly recommend you stagger the approval over a day rather than approving 500 members at once. This is because if you tag too many members at once Facebook will block you from tagging for a few hours. There are no clear rules as to how many members you can tag and over what period before you get banned but we have approved up to 500 in 3h before that happened. Either way, you want to play it save. The bane can last between 12 and 24h and does not prevent you from using Facebook, only from tagging other members.
Setup rejection keywords
After you are done with the welcome message, you should have a look at whether you want to add any spam trigger keywords that would automatically reject potential members based on their answers.
For example, you may add things like Bitcoin, the word Yes (spammers often answer Yes to the first question because it is common for the first question to ask for members to acknowledge something) or any other word that you want to use to filter members out.
First toggle the button next to Auto Decline Based on Keywords ON and then click on the wheel which will open a new panel with the settings for auto declining.
You can type any keyword you like and then set an interval in minutes for the rejections to take place. Don't forget to click Save and then Update in the previous screen.
Set up a welcome direct message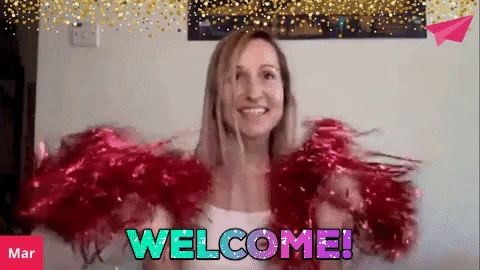 Besides tagging all members in the welcome post in your group you can also send them a direct message via Facebook Messenger. This is very powerful to engage and to spark conversations. Your welcome message could be a prompt to answer a question such as "What are you struggling with right now?" or "What tool do you use to do XYZ?" which can be an invitation to discuss ways in which you can help them.
To set up this feature, go to the main Group Leads panel and toggle the Enable welcome message option ON and then click on the wheel to enter all the details.
You can personalise the welcome message with the name or URL of the group and the name of the member and can create several different messages so that you don't get flagged as spam by Facebook.
Then pick the settings of how often the messages get sent and how often to stop and take a break, this is so that you don't trigger spam warnings.
Don't forget to click Save and then Update in the previous screen.
Pro tip: To send messages to new members you need to approve them manually, you cannot send private messages to members that were automatically pre approved.
Setup the membership question reminder
Group Leads allows you to send an automatic message to members before approving or rejecting them into your group. This is a useful feature when members don't answer the membership questions and you want to remind them to do so.
You need to first activate the feature from the main screen of Group Leads by toggling the button for Send Message Only Settings ON and then entering your personalised message that will be sent when you click the button.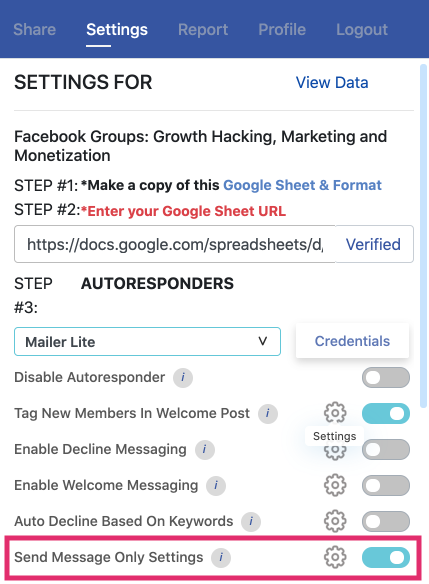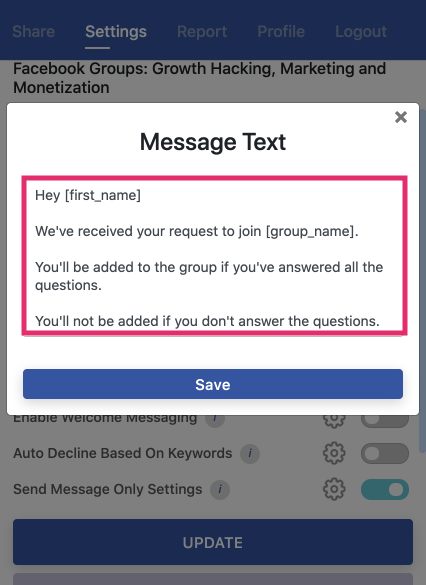 After you have set it up, you will see a new blue button appear under the red Group Leads button.
You can then click this blue button after you Accept all members that fulfilled your criteria to send individual messages to remind members to fill in the questions.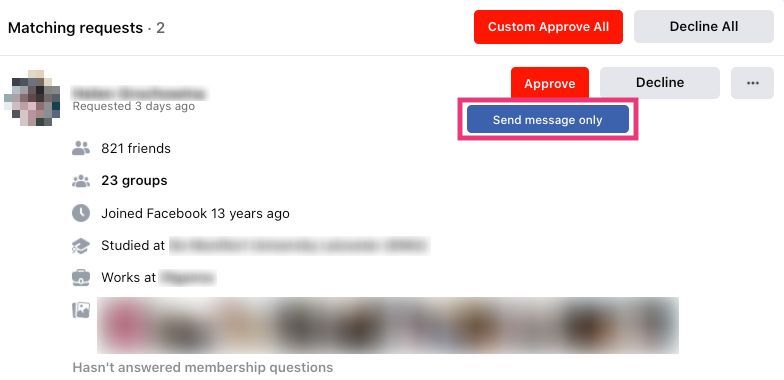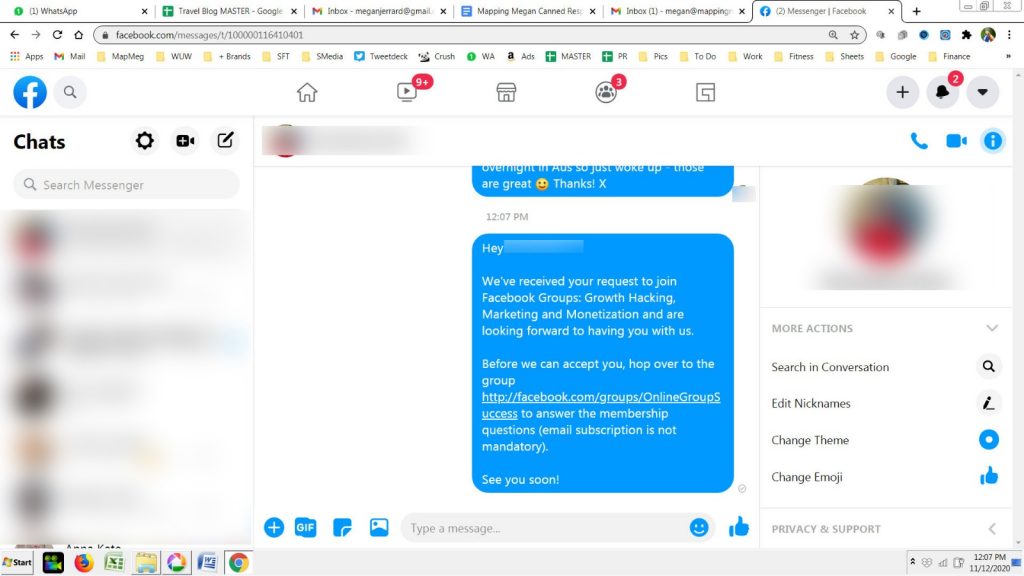 Setup decline message
If you have decided to be strict with your membership acceptance and want to send decline messages to all those who do not answer the membership questions, you can set this up from the main panel.
Toggle the option Enable decline messaging ON and then click on the wheel to enter your preferences. You can choose how often the messages get sent and when to pause and take a break or if you just want to send a few.
Don't forget to click Save and then Update in the previous screen.
Group Leads review: After sales support
Perhaps one of the most impressive part of Group Leads is that the founder, Jamiu, is always on top of customer requests and any issues.
He is active in the group for the tool, over messenger, over support chat and also on email and you will get an answer to any queries and support needs quite fast. He is based in the GMT time zone but has a customer support helping provide after hours support.
The tool is constantly updating and new features are literally added every week, which is quite impressive. This means that if you get the lifetime license, you will be buying into the future growth of a very powerful tool at today's early adopter prices. This is why we highly recommend them and also purchased a lifetime license ourselves.
Group Leads review: improvement areas
Although we are HUGE fans of Group Leads and it has saved us hours of work and helped us automate lead collection and communication with our members, there are also a few things that you need to consider before purchasing Group Leads.
Can only be used on desktop
As Group Leads is a Chrome extension it can only be used on desktop on your laptop so you cannot approve members on the go from your mobile phone.
However, the tool can be installed locally on any computer and there is no limitation as to how many people can install it, as long as they have the license your colleague can help you approve members from their laptop too and all will be collected in the same spreadsheet and will go to the same email marketing funnel.
Constant changes
Group Leads is a Chrome extension for Facebook that means that every time that Chrome or Facebook make a change, the extension may break and stop working. While Chrome does not make too many changes, Facebook does and this means that you should be prepared to live with disruption and the fact that Group Leads may not be always available.
Usually, when something breaks, Jamiu and the team are on hand to fix it real quick but that does mean that sometimes approval processes are down for a day or two.
Learn Our Secrets to Growing 15 Groups to

100k + Members

! Get Our E-Book!
400 + Actionable Pages
390 + How-to Screenshots
32 Proven Unpaid Growth Strategies
My group has exploded using your strategies. A competing group actually asked me how I was growing so quickly!!