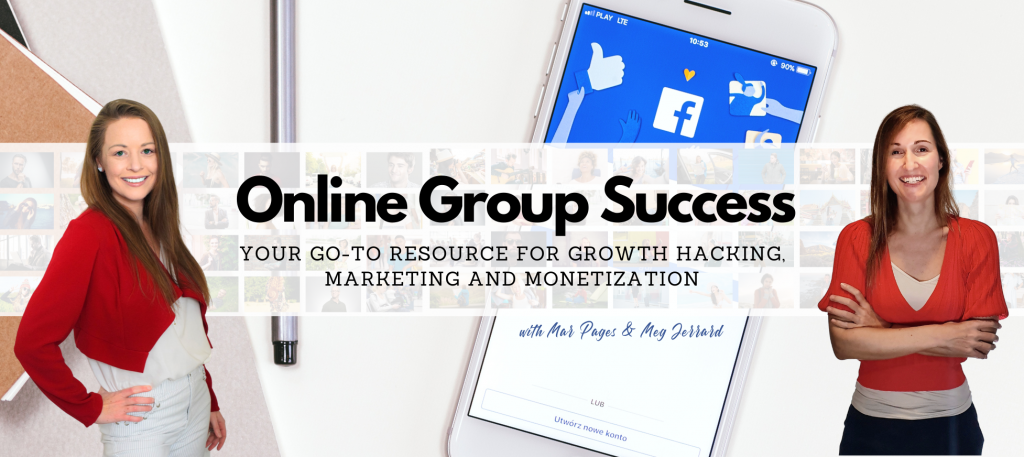 As experts in growing, marketing, and monetizing Facebook Groups, of course we have one of our own for this precise subject, and we'd love for you to join us!
Facebook Groups: Growth Hacking, Marketing and Monetization is for Admins who want to supercharge their group growth, marketing, engagement and monetization in a genuine and authentic way by providing value to their members.
Led by Mar Pages and Meg Jerrard who admin 15 groups with over 100,000 members in total, this is a space where you can connect with other community admins and founders for brainstorming, comparing success stories and case studies, and learning proven ways to grow, engage and monetize your community.
Use the group as a MASTERMIND.
Listen, learn, encourage, share, keep each other accountable and support other members to grow. We don't want to have the BIGGEST community, we want to have the BEST one!
these define our group and are our promise to you
NO FLUFF
Time is money when you're an entrepreneur. We don't have time to waste on fluff, and we respect your time by cutting straight to the point when we share our strategies. They're also in plain English for you.
NO BULLSHIT
We're allergic to it. We hope you are too.
NO UNPROVEN TACTICS
We only discuss proven strategies and tested suggestions that we ourselves personally use. Advice we share is directly related to what we're currently doing.
NO DIRTY TRICKS
We believe that growth and monetization are only sustainable when you build a high quality group. You'll only learn white hat strategies that are respectful of your members.
We are always connected and on hand within the group to answer any questions you might have, or put our heads together for brainstorming ideas, and masterminding strategies.
What are you waiting for? Join the party!
membership Questions
When requesting to join our group, you'll be prompted to answer three membership, and we need you to fill these out to be accepted into the group. They're pretty easy though! This is what you'll be asked:
Do you have a group? If so, drop the URL. If not, tell us why you want to join.
Leave your email to receive growth hacking and monetization tips for Facebook Groups.
What is your business URL (linked to the existing or future group)?
looking forward to connecting with you in the group!