Facebook has come to be known for sharing important product and company updates at each year's Community Summit. Since its first in 2017, it has used the space to formally announce changes to Groups, one of its key three pillars for growth (along with Watch, Video, and Games).
At the 2020 Communities Summit which took place on the 1st of October, and also marked Facebook Group's 10th anniversary, Zuckerberg and Simo announced major new features were coming to groups and shared several interesting figures.
Zuckerberg mentioned that there are over "70 million active admins and moderators" who jointly manage groups with over 1.8 billion active monthly users (up from 1.4 billion in May 2018).
After Zuckerberg's intro came Fidji Simo's part. The Head of the Facebook App stated that "over half of Facebook members globally are a part of 5 Facebook groups or more" and closed the keynote Summit presentation by adding that "Facebook wants to make it easier to discover more of what you love". Translation: We want you to spend more of your waking time on Facebook.
With that in mind, this year's summit was packed with specific feature announcements and new tools all of which are aimed at making admin's lives easier, promoting membership and engagement.
In brief, Facebook wants you (as a user) to be a part of more groups where you spend as much time as possible connecting with other members on shared interest.
In recognizing that it is the admins and moderators who make this happen, they are launching tools to automate moderation and promote engagement, while their algorithms continue to recommend new groups to join to help you passively grow your groups.
Below is a list of everything that was announced and screenshots of some of the features that are already live in our own groups.
Stay up to date with the latest developments in Facebook Groups by joining our newsletter and our group for expert Facebook group admins.
Admin Assist: group management tools
It's unsurprising that Facebook has realized the need to introduce useful tools for Admins and Moderators to manage their groups. In addressing group admins, Zuckerberg admits, "groups wouldn't exist if it wasn't for you" .
Anyone who manages a large and engaged group will know that it's not easy, and that there is a significant investment of time that goes into creating a safe, meaningful and engaging environment. The only way to reduce that time is to automate tasks, especially repetitive ones.
For this reason, Simo announced a new set of community management tools called Admin Assist. "Admins are at the heart of every community" and this new tool will "will make it easier to moderate posts in the groups by allowing you to set rules so Facebook can do the work for you".
She did not give further specifics on what exactly these tools will do except for an example whereby admins will be able to mute new members for a specific duration of time after they join so they listen and learn about the group and its tone before being able to actively post.
This would significantly reduce the incentive for members to join a community simply with the purpose of self promoting or trying to sell something to other members. It could also reduce or even eliminate the spam from bots who join groups to promote bitcoin, MLM, forex trade, spell casters and alike.
She also mentioned admins will be able to restrict what topics are discussed within the group with keywords and filter out posts that have those keywords. In the same example as above, you could ban posts with the word bitcoin or forex from being published in the group, this is particularly useful in the cases where a group does not have post approval turned on.
Tools to better engage
Beyond being able to more conveniently and efficiently manage a group, Facebook also wants to increase the time spent on the platform and to do that, it will launch a series of new features and "experiences" to promote engagement.
New topics experience
It is hard to organize content within a group, especially if the group is large and active or the topic vast (eg. solo female travel). To date, Facebook had launched a few features aimed at organizing content within a group, the most useful of which are Units and Topics.
Units allow admins to organize content in a logical manner to teach members something. They were originally launched for social learning groups but have since been converted to a feature that can be turned on for any group.
On the other hand, Topics allow members to tag their posts within a group, and then access a special category feed with all posts in a particular topic, filtering out all other irrelevant content. However, each post can currently only have one topic and members cannot add new Topics, they can only tag a post with one from a list the admin has defined.
Facebook also probably realized that the uptake of Topics is low (most of our members don't know it exists and don't use it) and that users are more used to tagging content using hashtags. As such, it will soon launch "a new Topics experience" by merging the functionality of topics with the recently launched hashtags feature.
Members and admins will now be able to add hashtags to posts and admins will be able to pin a certain topic to the top of a group. This would have been a very useful feature to have at the beginning of the pandemic when admins had to navigate the changing reality with threads pinned to the top of the group.
Q&A posts in groups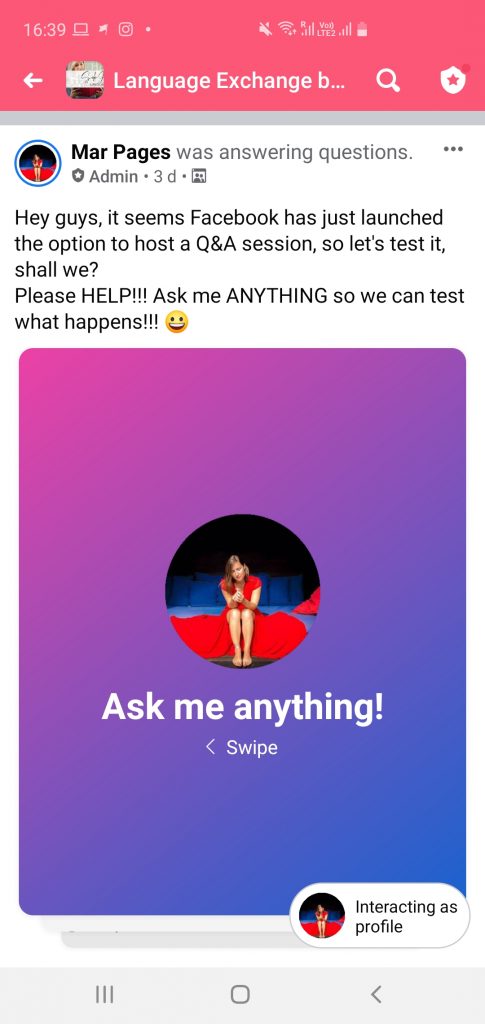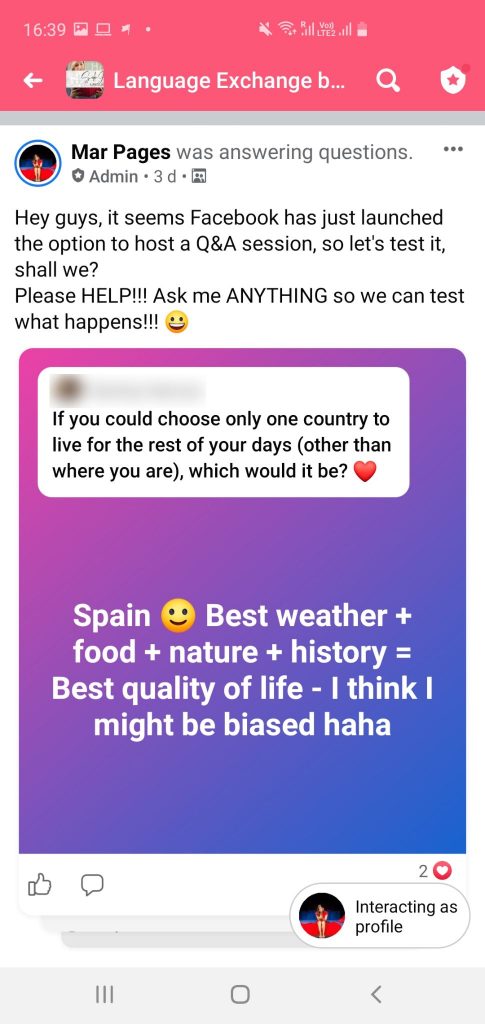 Admins will be able to lead conversations within their groups with Q&A sessions. Fidji announced these posts would be stackable so members would be able to swipe to see each question. For now, we have seen this feature appear in our Language exchange group working as intended, the swipeable option only appears on mobile.
Posts in Q&A appear vertical, a la Instagram, presumably so that they can accommodate longer text within the color background style. To manage the conversation, Admins can filter comments by unanswered questions to sort through the thread and find the questions they have yet to answer. Q&A sessions can be closed whenever they are done.
Hosting a Q&A could be a good alternative to live videos and offer an interactive way to converse with your members without having to go live.
Note that this feature is only available in the new Facebook layout and does not work as intended in the old layout.
Prompts
Prompts will be a new swipeable feature that will promote interaction by prompting members to post images of something. The various images posted will be shown in a stackable way, like the Q&A sessions. This could be very useful in groups where this kind of engagement happens.
For example, in our Solo Female Travelers group members often share video from their window, their favorite trip, a great picture of a beach, etc. The swipeable option will make scrolling mobile friendly and more of the images visible without having to scroll through hundreds of comments and responses.
Personalize your profile picture per group
One of the most interesting new features will allow members to adjust their name and profile photo to show differently in each group they are a member of. For example, if you join a gaming community you can tailor your profile there to your gaming avatar, or when you are in a group for pet lovers, you can change your profile picture to show your dog.
You could also show your true self in a closed community for solo female travelers while you hide your face on your general profile.
Learn Our Secrets to Growing 15 Groups to

100k + Members

! Get Our E-Book!
400 + Actionable Pages
390 + How-to Screenshots
32 Proven Unpaid Growth Strategies
My group has exploded using your strategies. A competing group actually asked me how I was growing so quickly!!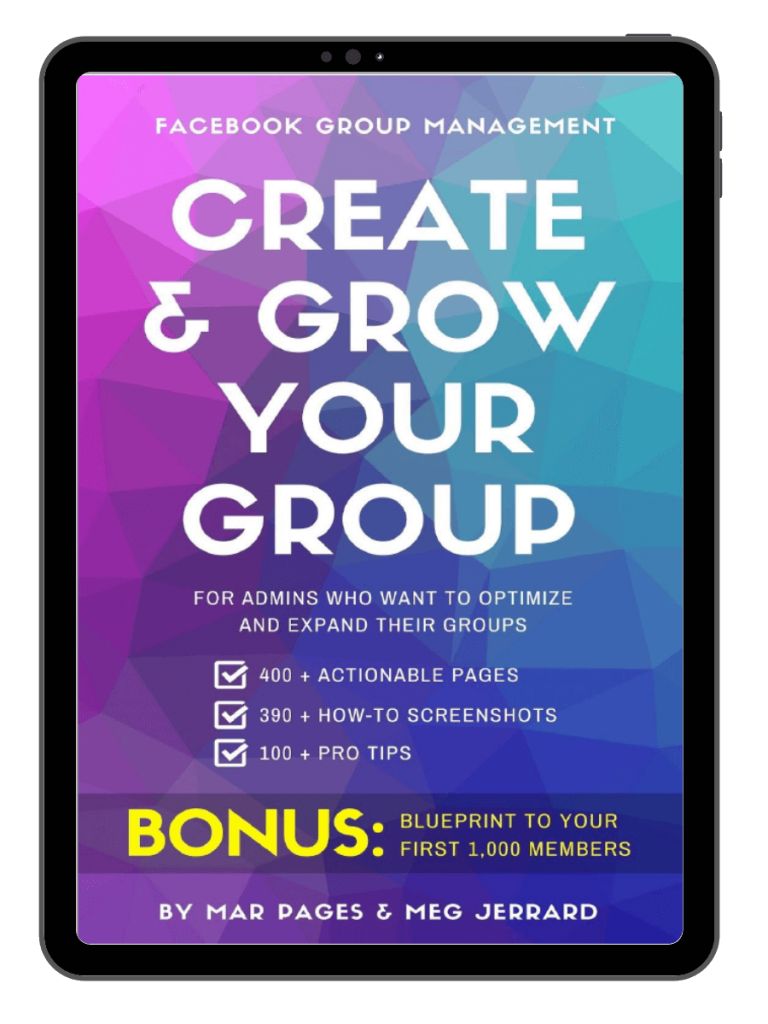 Group chats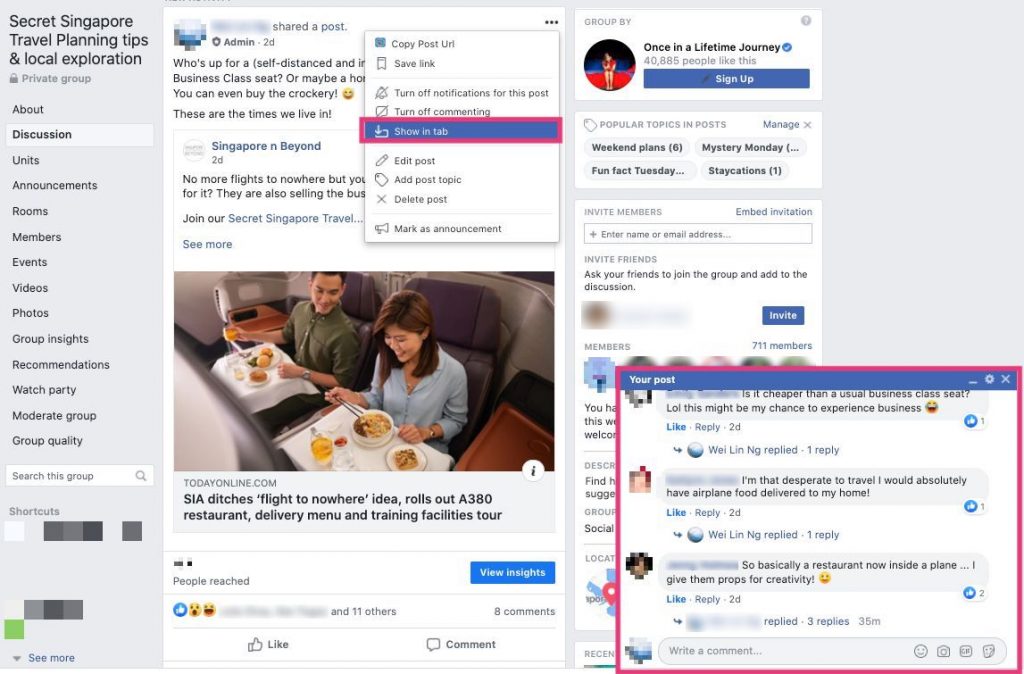 Fidji also announced a new feature that will promote "smaller and real time discussions among group members" by opening chat boxes for some of the posts. Facebook has been launching a host of new features across its various products to promote conversations, from Messenger Rooms to Whatsapp integrations, so chat boxes appear as a natural extension.
It is not clear how this will work but one of our group admins pointed us to this new feature a couple of weeks ago, and although she does not have the F5 layout option yet, she has since seen this new option to open conversations as messenger tabs in our Secret Singapore group, as seen in the above image.
We are unsure of how this will work and how it can be managed so that it does not crowd the screen. If a member is active in lots of threads, all these boxes could be overtaking the experience but they can also be a great way not to miss out on conversations that get lost in the sea of notifications.
Conversations getting lost is something that we often suffer ourselves as we participate in, facilitate and manage lots of group conversations and chat boxes could well be a great way to eliminate this issue.
Brand Collab Tool extension to public groups
To make group management and moderation worthwhile for admins and moderators, Facebook will open the Pages Brand Collab Manager to groups. This will formalize sponsorship opportunities between group admins and advertisers that were to date a grey area and presumably, give Facebook a cut of the deal by allowing advertisers to boost their posts.
While we welcome all institutionalized and vetted ways for admins to monetize their groups, this is the most controversial and value-destructive feature that Facebook announced and one that we will be watching closely.
On one hand, groups are not currently monetized. When scrolling through a group's feed its members don't see any in feed ads save for the ads placed on the side bar on desktop, and this means groups are currently a huge missed revenue opportunity for Facebook. However, to move from an ads-free space to a monetizable environment is something that should be carefully considered.
Private groups are exclusive spaces where sensitive topics are often discussed, and if recent advertising debacles have taught us anything it is that showing irrelevant and worse even, insensitive, ads in the wrong places can have very negative impact for the advertiser's reputation and for the publisher.
Facebook must recognize that, which is why it is starting by only allowing partnership deals in public groups. In doing so, it is assuming that public do not contain sensitive conversations and that the admin knows what partnerships can be of value to their members.
Prior to the Summit, our bet was for post boosting to be brought to groups (private and public) especially since Facebook has been testing the option of showing ads within groups since August 2020 and had already launched the Paid partnership tag in groups in September.
Instead, Fidji announced that partnership posts will be allowed only in public groups, probably because launching ads in private groups could be the beginning of the end and erode the company's trust even further.
We also expect that the reach of admin posts within groups will continue to decline, the same way Facebook Pages went, so admins have an incentive to get brands to pay for reach. We had been suspecting that admin posts have far lower reach than regular member posts within our groups, and the recent launch of post insights has proven that to be the case.
public group features
Facebook realizes that managing private groups is complex and introducing changes can easily backfire. However, public groups are not different from the open forums we are all familiar with such as Quora or Reddit. To balance shareholders' objectives and financial goals with the private nature of closed communities, Facebook announced a new public group experience.
Fidji talked about the intention to make it easier to discover public groups, including "on and off Facebook" so that members can join in the conversations. This also means group conversations will be seen outside of Facebook, and will presumably be indexed by Google and other search engines.
Related conversations
To start with, Facebook will start surfacing conversations from public groups in newsfeed and the Groups tab to encourage participation and membership. It will show these conversations not just to existing members but also to non-members, if the group Admins choose to do so. Non-members will be able to contribute to discussions in public groups.
This new feature, the company hints at, will not just to promote engagement over shared passions such as the Grammy's or a big game, but also show people other points of view and maybe counter polarization, an issue Facebook and social networks have been accused of.
For example, when members share a post or link from a public group, they will be shown other public groups where the same link has been shared so they can join in the conversation.
Facebook states they will show non-members the community rules before posting and that Admins will be able to restrict the type of content non-members can post to manage the risk. This seems like a great way to grow public groups but as an admin, I am seriously concerned about spam and the risks associated with having non members participate in what is a closed group in existing members' minds.
As admins of a large and incredibly diverse group, we see the benefits of this in bringing out different perspectives, but we also recognize that this could remove a lot of the shared values and context cohesive groups have and cause conversations to escalate with opposing views.
How this feature will work and how the new Admin Assist will contribute to supporting admins in this new reality will be key to the success or catastrophic failure of this new option.
The devil is in the details and we will have to see how this feature is implemented before being able to understand the ramifications.
As a side note, we have seen Facebook recently testing the option to reshare conversations from private groups outside of the group, even to pages, albeit masking the post itself to non-members and prompting viewers to join the group to see the details.
We tested this new option by sharing a post from our private Solo Female Travelers group to our business page and have included screenshots of this new feature (or test) below.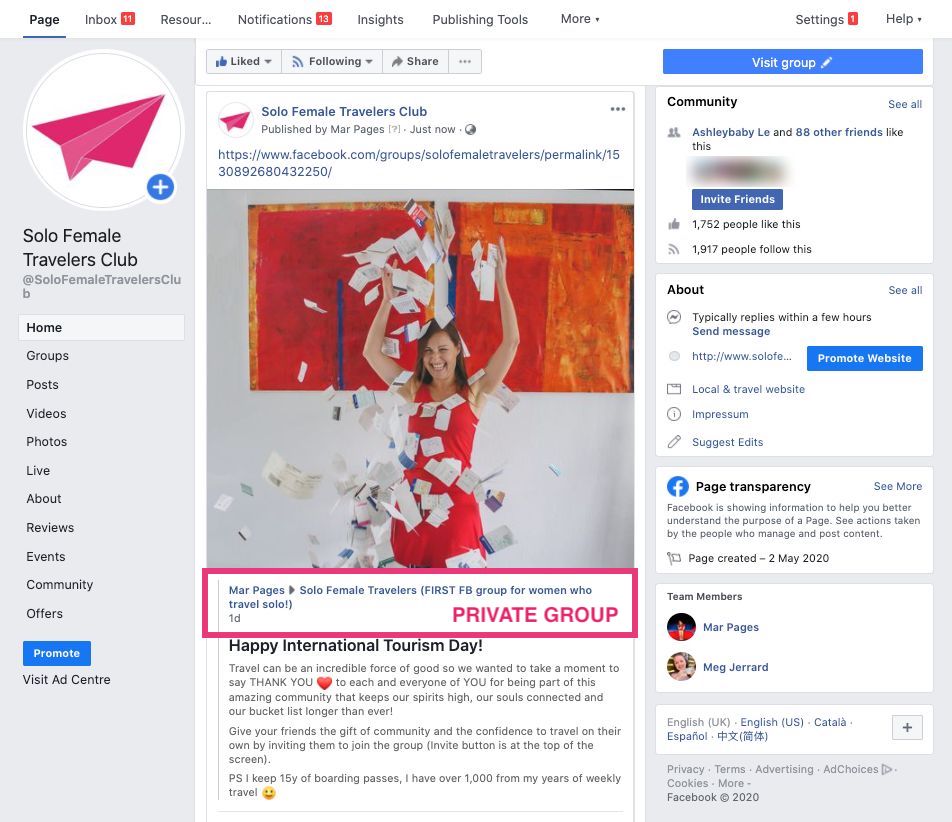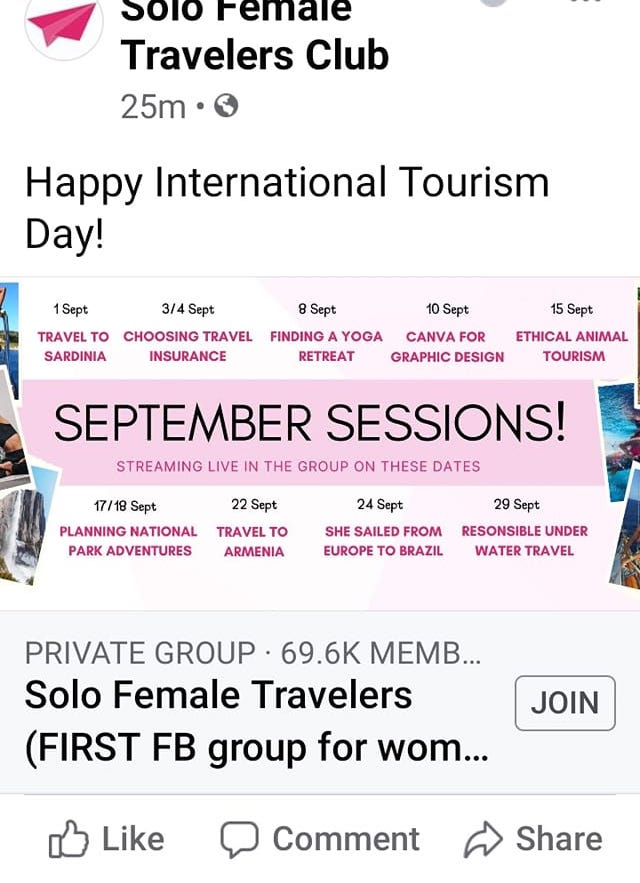 Membership approval of public group discussions
In an effort to make joining public groups as simple as possible, Admins will be able to open membership without needing approval. Admins will still be able to decide if they want non-members to participate in conversations and restrict who can post via Admin Assist so this is purely aimed at removing the need to approve members.
For context, membership can already be managed automatically by sharing approval rights with other members of the group who can approve their friends when they request to join.
Moreover, when a member invites another one, the invited member already has preview access to the group (even a private one) for 30 days while they make up their mind on whether they want to join in or not.
Approving membership of large and growing groups can be extremely time consuming, especially if done manually, but any admin who has a minimal interest in monetizing their groups in the long run should not miss the opportunity of collecting email addresses of new members. As such, leaving automatic member approval to Facebook is a huge opportunity loss.
Instead, we strongly recommend group admins automate this process by integrating with Groups Leads, an automation tool that collects all details of new members into a spreadsheet and into the email marketing tool of choice in just one click. We have been using Group Leads for months and cannot recommend it highly enough (Tip: our readers enjoy up to $700 off Group Leads lifetime access, just because you rock!)
New group type
Without giving a name or going into too many details, Simo closed the list of features with butterflies. This was to bring our attention to a soon to be launched group type she did not unveil and which will "promote creativity, connections and help us enjoy the smaller moments in life".
To illustrate, she mentioned groups for people who want to know what it would be like to be a butterfly or to share baking fails. It's hard to imagine what she was referring to but our bet is on either Virtual Reality (which would align with Facebook's other endeavors) or video.
Facebook community management certification
Last but not least, Facebook also announce the launch of a new Facebook Community Management Certification program which should equip admins and moderators with the right expertise to manage groups.
Certainly, group management has become an art, which is why we are launching our Facebook Group Academy with our own books, courses and certifications, and we expect them to complement and expand on Facebook's official program which will most likely focus on the basics and the features rather than on how to leverage them for business.
When will the new group features launch?
Both Zuckerberg and Simo were vague on most of the details of the features announced and even more so on the timeline stating that they will roll out in the next months.
We have already seen some of the above features rolled out in our groups but, as with everything that has to do with Facebook, it is hard to understand which groups get which features first. We do know that our most active and engaged groups tend to be the first ones to see new features, so join our newsletter and our group for expert Facebook group admins to be notified.
Learn Our Secrets to Growing 15 Groups to

100k + Members

! Get Our E-Book!
400 + Actionable Pages
390 + How-to Screenshots
32 Proven Unpaid Growth Strategies
My group has exploded using your strategies. A competing group actually asked me how I was growing so quickly!!