Ever wondered how to use Facebook for groups to support or grow your business?
You've come to the right place!
With more than 2.6 billion people using Facebook monthly and a renewed interest in online communities since the beginning of the COVID 19 pandemic, Facebook Groups are enjoying a second wave of growth.
Breaking world records? Dating advice for single moms? Insects of Tasmania? Hiking in your city? Learning to code without a university degree? It doesn't matter how specific or unique your niche is, you are sure to find a sizeable community of likeminded people on Facebook.
Jump to: What are Facebook groups I Groups vs Pages I Benefits of groups I Types of groups I FAQ
Why you should start a Facebook Group for your business TODAY
Facebook Groups are not new, in fact, they have been around since 2010.
What's changed in recent years is their potential for businesses and the users' interest in online groups, thanks in part to Facebook's outpouring of resources into promoting membership and rolling out new features, and the reality of self-isolation making online communities more important than ever in 2020.
The time is ripe for companies to capture the opportunity presented by Facebook Groups before their competitors do, and before they go the way of Facebook Pages (aka a pay to play model)
What are Facebook Groups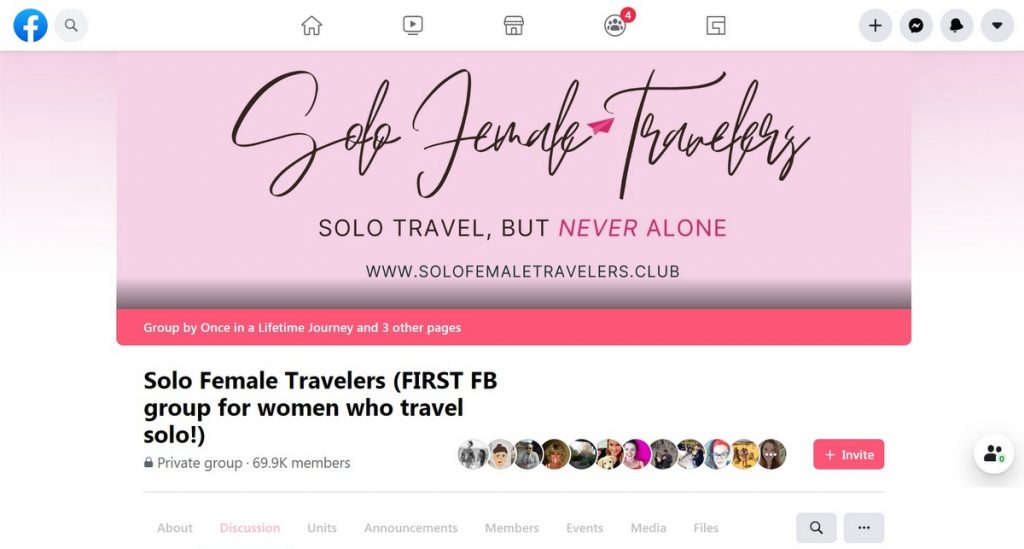 Facebook Groups are separate online spaces on Facebook for users to connect over shared interests.
They have connected marginalized communities and given them a voice, they have been used to effectively promote causes, to coordinate social experiments, to find information, to keep family up to date, to inspire, raise awareness, sell products, express objectives or discuss issues.
Some groups are segmented by demographics (e.g. age, gender, ethnicity, race, religion, etc.), others by geographical location (e.g. a neighbourhood), and many are simply organized around a topic, a brand, a product, an interest or a hobby (e.g. dogs, travel, bitcoin, freelancing, etc).
Facebook Groups can be created by anybody, even a business via its Facebook Page, and individuals can be a member of up to 6,000 groups giving users ample opportunities to connect with a diversity of communities.
Think of Facebook Groups as virtual living rooms where you can digitally interact with others who are just like you, or with whom you have something in common, whether that's a love for knitting patterns or a common health condition.
Like with your living room, you can pull the curtains and make your group private, along with its members and the conversations within, or open the curtains and make them visible to those walking by. If what they see is of interest to them or they want to have a say, they would have to come into your house (more on private vs. public groups later).
The beauty of Facebook Groups is that, unlike your living room, they can accommodate an unlimited number of members and the largest ones have more than 1 million.
Facebook Groups vs. Facebook Pages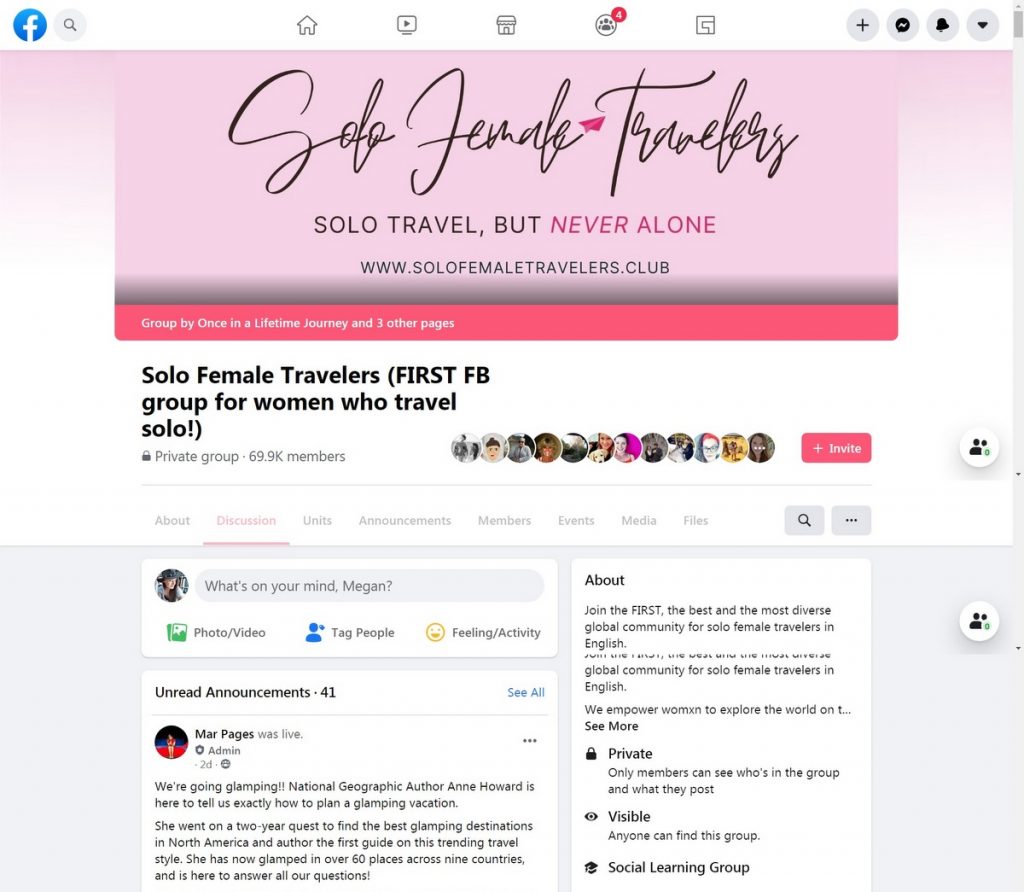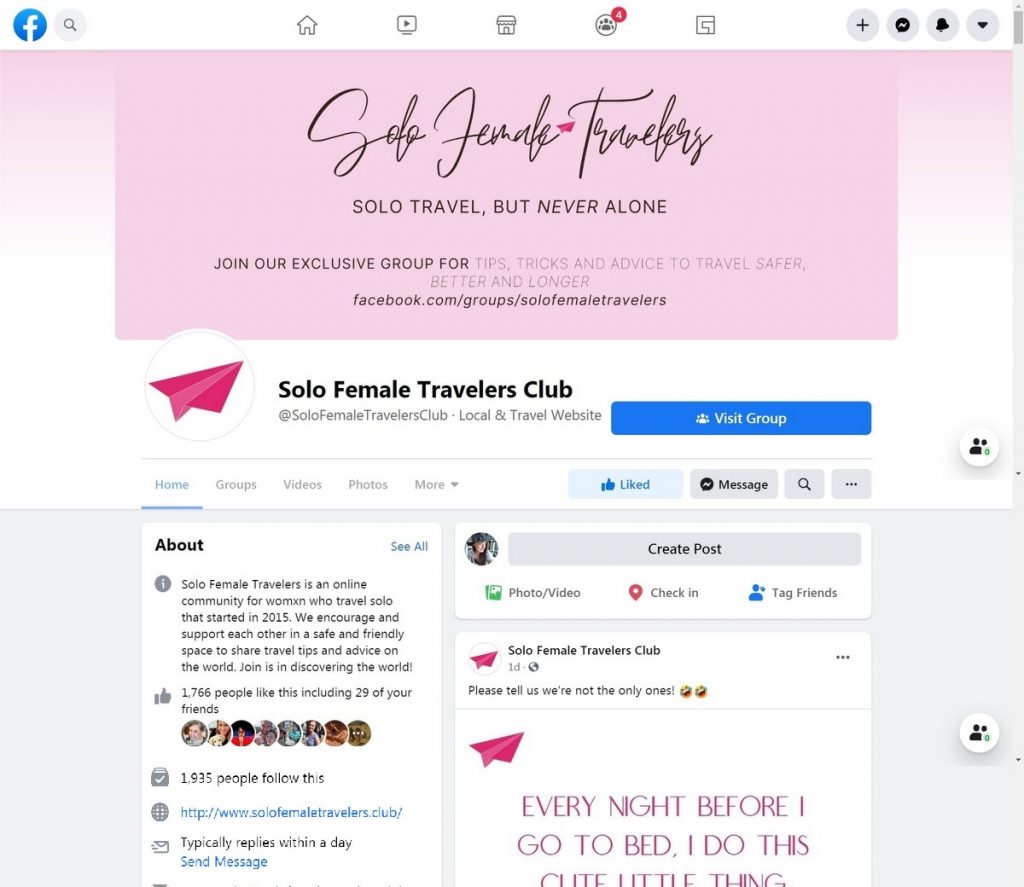 Often times, we see people use the words Facebook Page and Facebook Group interchangeably and even members of our group will refer to it as this page, however it's important not to confuse them as these are two very different tools to grow your business on Facebook.
In the past, Facebook Pages were the best tool for businesses, brands and individuals to market and promote themselves. In many cases, they were the reason businesses joined Facebook in the first place. No matter what industry you are in, chances are you and your competitors have a Facebook Page.
However, Facebook today offers a much different landscape than it did back in 2007 when business pages were first launched, and as happens with any Facebook product, the focus has moved away from pages being a free business tool to them being a part of Facebook's "pay to play" model.
As Facebook Pages became more mainstream, Zuckerberg monetized them via advertising, and individual page owners lost a great deal of organic reach. Today, only around 2% of those who like / follow your page will see your content in their News Feed.
Strategies to connect with your followers that worked back then simply don't work anymore, and to reach those who want to hear from you, you will need to work much harder or invest in advertising.
This is why, for now, groups are a powerful tool enjoying both renewed user interest and Facebook's focus.
However, that's not to say that the Facebook Page is dead, or that it has to be an either/or proposition. Pages still act as an incredibly important asset that can be linked to your group and utilized in a way where the growth of each can be channeled into growing the other. They are also a key tool for brands to manage groups and provide complementary insights into your community management.
In this section we are looking into the differences between a Facebook vs. a Facebook Group.
What is a Facebook Page?
If a Facebook Group is a digital living room, a Facebook Page is a digital business card where you can publicly broadcast your contact details, content, business related news, promotional material and offers, and connect with a large number of fans who interact with your content.
It's essentially a professional alternative to your personal profile, where you can create a public presence for your business, or yourself as an individual / public figure.
Unlike your personal Facebook profile which allows you a sliding scale of privacy controls, pages are visible to the whole internet, and instead of only being visible to your friends, anyone on Facebook can connect with your page by liking it or following it to receive your updates (unless you manually block their profile).
The nature of a Facebook Page is that it's set up for you to take the lead; for you to connect with your audience and promote yourself. Your followers are interested to hear about you and your brand in a largely passive way.
Pages are not strictly a one-way communication channel as fans have the option to privately message your page, interact with your content, and post to your wall. But they aren't open discussion forums where your followers' thoughts are discussed either.
Groups more successfully personify two-way communication as they allow members to start their own discussions, and interact with each other while feeling like the space is partly their own.
Because of this, groups allow businesses and brands to engage with a community in a much more authentic and meaningful way than in a discussion started on a page; it removes the impersonal barrier and puts a face behind a post, as opposed to a company name / logo.
At the same time, groups are not necessarily centered around the brand or company who created them but rather on the industry, product, service or problem they solve. For example, a company that sells diapers could start a Facebook Group for first time parents.
There are many pros and cons to having a business page over a group, and to having a group over a page, the most notable of which are the differences in audience and purpose of the two, and the tools Facebook has made available to admins of both.
Pro tip: We personally believe in having both a page and a group, and using each to their full potential to channel circular growth. Without a page, a group will not be able to leverage some of Facebook's features (namely search engine visibility and advertising options), and without a group, a page will miss out on the full potential of the Facebook platform.
For example, in our Solo Female Travelers group, we have linked and extended admin privileges to three pages: the official Facebook Page for the group itself, and the two pages attached to our personal businesses.
We usually interact in the group as ourselves using our personal profiles but will occasionally interact as the page. In the below screenshot, you can see that Facebook lets you choose who you want to interact as when in a group, and you can toggle between your page or your personal profile.
What pages have that groups don't
We've mentioned that Facebook Groups and Facebook Pages have different features, so let's look at the unique features of each channel, and how they can support your business goals.
Advertising / paid exposure
Pages have the ability to run targeted Facebook ads: groups don't. This may well change in the future as Facebook extends monetization options to groups, but for the time being, this is a defining difference between the two.
There is no way to directly advertise your Facebook Group through Facebook ads unless you also have a page, at which point you can create an ad from your page which promotes your group, or boost a post which does the same.
For the time being, Facebook is pushing membership to groups via their Suggested groups feature, where they show your group to people who they think could be interested in joining. This will surely change soon, perhaps as early as 2021, when we expect organic reach within groups to drop and advertising to become a more important native tool to grow your group.
Advanced insights
Because Facebook Pages are a business-oriented tool with the option for paid advertising, they can access far more in-depth data and insights about both members and member activity than you can with groups. Although this is fast changing since Facebook rolled out post insights in September 2020.
Page Insights are unlocked once a page reaches 500 likes, at which point you have access to a wide range of data. The insights available for pages include:
A page summary for today, yesterday, and the last 7 or 28 days, which includes actions on your page, page views, page previews, page likes, reach, engagement, responsiveness, and a summary of your top performing posts. If you download the data you can set a date range that goes back to 180 days.
Followers insights, including the total number of page followers, and graphs on growth for comparing your performance over time, with the ability to drill down further into the % of organic followers vs that which came from paid campaigns, and where your page follows happened (i.e. on your page itself, from an API, or from Facebook Page suggestions).
Likes insights for tracking the total number of page likes, with the same available drill-down data as above in Followers (a Like is essentially just a statement that someone is a fan of your page, and this shows up on their profile. A Follower on the other hand has actively chosen to have your updates show up in their news feed (subject to the Facebook algorithm).
Reach insights provide data on the number of people who saw your posts at least once, and you can break down the overall engagement into the number of reactions, comments, shares, and answers. You can also see how many times your content has been hidden, reported as spam, or unliked, and benchmarking allows you to compare your overall performance over time. You can see the total reach of your page as well as page posts.
Page views provide data as to your total views, who is viewing your content, and what content they're viewing (i.e. photo posts vs live videos), which is powerful for determining which content performs best with your audience. You can break your pageview data down by section, age and gender, country, city, and device.
Total actions on page gives you data on how many people clicked your action button, and breaks this down by age and gender, country, city, and device. It also offers how many people clicked to get directions, clicked on your phone number, and clicked on your website.
Posts insights allows you to see when your fans are online (both popular days of the week and times of day) average reach and engagement for different post types, and the reach and engagement for all individually published posts. You can (and should) also add competing pages to watch, and compare the performance of your page and posts with those similar pages on Facebook.
People insights shows aggregated demographics data grouped by age and gender. You can access a breakdown of gender, age, country, city, and language of your followers, people reached, and people engaged.
Other insights include analytics on your video posts, stories, and messenger (i.e. your responsiveness in responding to private messages).
As you can see, that's a lot of data and in depth detail which you can really drill down on. Groups do offer group insights, though by comparison this is highly limited, and gives you limited insights on individual posts (though we believe this feature may be expanded in the future).
Group Insights offer:
Growth details which track your total members over time, as well as how many membership requests you have approved, declined, blocked, and pending.
Engagement details where you can see the number of posts per day (over time), the number of active members over time, popular days, popular times, and your most popular 10 posts within the specified timeframe. If you download the data you will see the top 100 posts in the last 28 days but this date range cannot be changed or expanded.
Admin and moderator details such as who approves the most posts.
Member details such as top contributors, an age and gender breakdown, and top 10 countries / top 10 cities.
Learning posts completed. If you utilize units within your group (which we speak about in more detail later on), you can see how many members have completed your units.
Post engagement (launched September 2020). This new feature provides the same level of insights you get from a Facebook Page post including reach and number of reactions. The reactions data was available before but since September 2020, Facebook has started to show post reach too.
A business storefront
Pages are business oriented, so this means they act as digital storefronts for your brand in a way that groups don't. Notably, you have the ability to add Call To Action buttons (CTA) to the top of your page to drive your business goals.
People see it both on your page and in search results, and your options include buttons to book now, contact you, learn more about your business, shop, download an app, or join your community. Groups offer no such feature.
To add a CTA button to your page, click on the big blue "Add a Button" prompt when viewing your page. You'll then be prompted to choose which type of button you want people to see.
You cannot customize the messaging, and have to pick from one of the listed options as outlined in the screenshot below. Follow the prompts, fill in the required information based on your choice, and your button will then appear in the same spot.
Pro tip: We use this opportunity to link our Facebook Group, which effectively funnels those landing on our page who are not yet members, through to the community. You can only link groups where the page has been added as an admin.
Pages also have control over managing tabs and sections which almost gives it the functionality of a landing page.
Tabs such as posts, groups, events, reviews, videos, photos, about, community, and offers appear on the left hand side of a page, and their respective sections appear in the middle of the page.
Tabs can be re-ordered (which automatically reorders the middle sections), removed (though default tabs like Home, About, Likes, Posts, Photos, and Videos cannot be removed), and you can add a range of optional tabs, including Services, Notes, Shop, Jobs, and Live (you do this through the "Templates and Tabs" section of your page settings).
You do not have the option to reorder or customize tabs within a Facebook Group.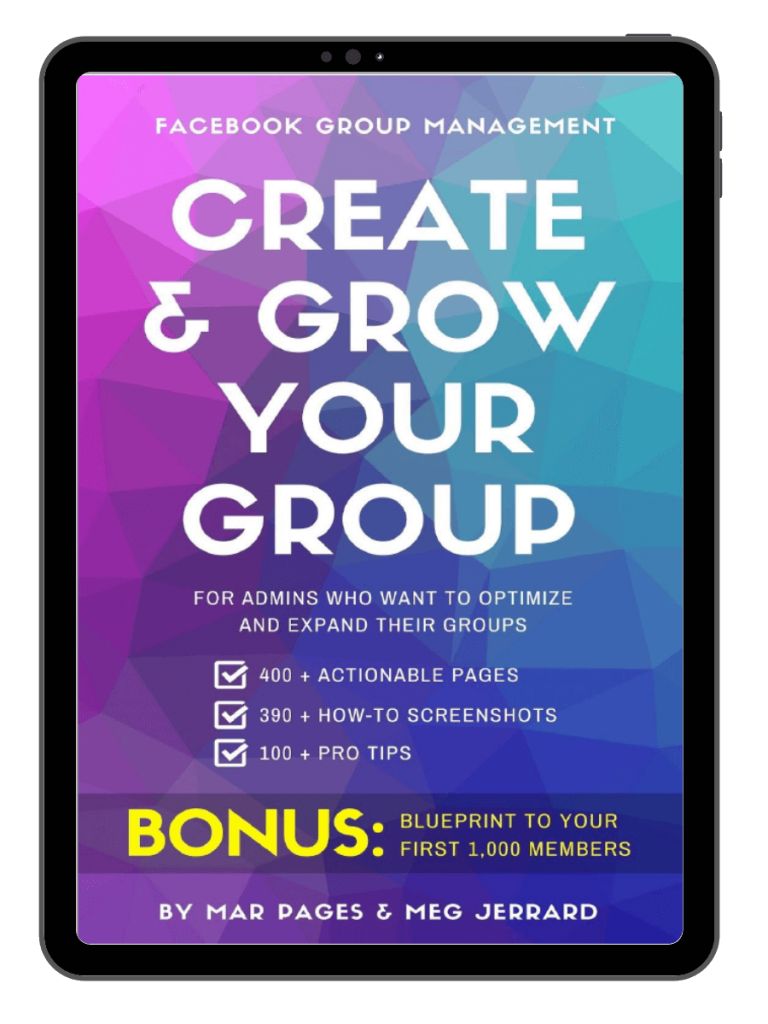 Learn Our Secrets to Growing 15 Groups to

100k + Members

! Get Our E-Book!
400 + Actionable Pages
390 + How-to Screenshots
32 Proven Unpaid Growth Strategies
My group has exploded using your strategies. A competing group actually asked me how I was growing so quickly!!
Paid online events
Facebook has also rolled out Paid online events for qualifying pages based on their Partner monetization policies. This is a great way to monetize your audience and can be a way for you to make money by inviting your group members to the paid online events.
Note that Paid groups were launched in 2019 but have been rolled out only to a limited set of groups in the US and by invitation only, so while they are a great monetization option, they are not available to everyone.
Comparison table Facebook Groups vs. Facebook Pages
Now that you have a better understanding of what features are available to Facebook Groups vs Facebook Pages, below is a comparison table summarizing the differences between the two:
Facebook Groups
Facebook Pages
Purpose
A community of like minded people who connect to discuss similar interests, and exchange ideas and opinions in a private, moderated environment.
An official online public space used to make announcements and updates about your brand. Acts as a shop front where people can learn more about you and have a public discussion on the content you share.
Tone and style
Friendly, casual online image that encourages engagement and increased connection. Facilitates group conversation and fosters a sense of community.
Professional image more suited to a one sided conversation. Communication is geared towards the linear, and business oriented in tone and nature. Limited connection due to an impersonal barrier.
Privacy options
Groups can be public, private, or hidden (more about the types of Facebook Groups in the section below).
Pages are public by default, and you cannot change their privacy; anything posted is visible to everyone.
Level of involvement
Thrives on community, and is maintained by the community. Members posting can naturally carry the engagement of a group as it grows, with minimal need for content creation from admin.
Thrives on updates, and is maintained by the administrator. If you fail to maintain a consistent posting schedule, your page will become inactive.
Advertising options
No access to Facebook advertising options (for now).
Run ads and boost posts for greater exposure.
Insights
Limited insights, though free exposure. Facebook naturally promotes your group to members in similar groups as part of their Suggested groups feature.
Detailed insights, with paid exposure. Access to in depth demographics data as well as insights and analytics on the reach of each individual post.
Search discoverability
Do not show up in Google search.
Show up in Google search.
Owner roles
Two roles for people who manage groups: admins and moderators. You can appoint multiple people to each role.
Five roles for people to manage pages:
Admin, Editor, Moderator, Advertiser, and Analyst.

The admin, editor and moderator roles include a sliding scale of accessibility in the day to day management of a page. The advertiser and analyst roles are set up to provide direct access for creating ads and accessing insights.
Scheduling
Can schedule posts in advance, though you cannot see the scheduled posts of other admins, unless they have been scheduled as a page where you are admin.
Can schedule posts in advance, which all admins can see and access.
Call to action
Cannot add Call to Action (CTA) buttons to the space.
Can feature a CTA button at the top of your page to drive business goals. People see it both on your page and in search results when your page appears.
Appearance
No customization over the tabs that appear.
Can control and highlight important sections with the use of tabs.
benefits of facebook groups: How Facebook Groups can help your business
Now that we have a good understanding of the differences between Facebook Groups and Pages and how they fit together, we will have a look at how they fit within your overall business strategy.
As we have seen, Facebook Groups are a powerful tool for establishing expertise, creating an engaged community, and promoting your brand / business to a larger audience than just your followers.
While you can very easily join existing Facebook Groups in your industry to promote your business, participating in existing groups is limiting as you're only there by the grace of the group admin, and are expected to play by their rules.
Creating your own group means you set your own rules and have a captive audience for your expertise, product or service. You have full control over the direction of your group, as well as the atmosphere and experience, and you can steer it in a way that meets your specific goals and purpose.
We consider groups a business tool that complements any business owner or manager's arsenal and, in some cases, Facebook Groups may be the most important marketing channel for your business.
Before we jump into the details of creating, managing, growing and even monetizing a group it is important to reflect on whether a group is the right strategic decision for you.
For example, is your objective to strengthen your brand and position yourself as a thought leader within your industry? Do you aim to keep people up to date on an event? Do you want to gather users of your product in a group to keep them up to date on new feature launches? Or will you use the group as a customer service channel?
There are many ways in which a group can support your business objectives, so answering the question of why you're creating a Facebook Group is incredibly important. It will not only help you grow your group but also make sure it continues to justify the investment in time and effort.
Online communities can be time and resource intensive so they must provide a return on investment that pays back. Without clearly defined goals, you'll find it difficult to provide a clear direction for the community and a reason for members to join, and this will negatively impact your potential for growth.
Take time at the beginning to crystallise your goals and the reasons why you want to start an online community. Understand how this fits within your brand's overall strategy and portfolio and you will radically improve your chances of success.
To get your thinking juices going, below are some of the benefits of Facebook Group for your business, bearing in mind that in many cases, your group will fulfill more than one business objective.
Build your authority
If you are a small entrepreneur, building authority and trust is possibly the most important benefit of starting a Facebook Group. If you work for a larger brands, a Facebook Groups will also allow you to cultivate a community of people who trust your brand and see it as an authority in the field.
Groups are a great platform for sharing information, and for teaching a subject on which you are knowledgeable. Building a group of members who are solely there because they value your expertise means you establish authority in a particular topic, and become known as an expert within your field.
Your members are within your group because they consider you influential on the topic, they find your content helpful, and the value you give them improves their lives or businesses.
In a way, your group is a network of followers and you are the influencer. But unlike regular social media channels, groups feel more exclusive, authentic and close, and because they nurture conversations, they forge a stronger bond so the trust you build is much more resilient. You can of course have similar conversations in the comments of a Facebook Page or an Instagram post, but these conversations get lost and are designed as one-way or between you and a follower.
Leading an online community where members see you as a thought leader and expert on a subject means having a group of potential customers who, when the time comes and they need to make a purchase, will be more inclined to buy from you.
At the same time, when you release a new product or service, your group is a way to reach your superfans. Many of your group members will be your biggest supporters and will also tell others about your products, even in other forums.
Sell your products
Facebook Groups are starting to become key components of the lead generation funnel, in particular of small entrepreneurs such as coaches who are starting to design powerful sales processes leveraging the power of community.
For larger and diversified companies, groups can be a means to promote their products or services. Your members are already interested in the niche or industry the group is in and, when they are ready to buy, you will be top of mind, and they will be closer to purchasing from you than your competitor.
For example, if you specialize in expat relocation services, you could start a group for Expats in X-City and have a portfolio of services that are relevant to the members of your group.
Have your content seen
Facebook Pages were previously one of the best ways to promote your content online and reach out to your audience, but after so many algorithm changes, not even your mom sees the content you post anymore.
There's nothing more frustrating than posting something you've worked for weeks on, and seeing one or two likes on a Facebook Page post, with zero comments.
Organic reach from pages is notoriously low (between 2-6% depending on the page and how hard you try), however organic reach from groups is still high and, in many relatively smaller groups, you can reach almost all of your members.
The new Facebook layout design and algorithm prioritizes content posted in groups to show up in your feed, and this means your content is seen. What is more, post engagement is much higher too.
People are more likely to engage within a Facebook Group and contribute to discussions because it's not as intimidating as posting to a business page. They are not engaging with your company necessarily, they are engaging with other members with their same shared interest.
Comments and discussions in groups are not just the PR-approved and vetted kind, but also unfiltered and honest opinions from the general public, which is what many people look for.
Grow your email list
Groups are one of the best ways to build an email list, especially if you collect emails as part of the membership questions when your members first request to join.
We automate the process of email collection using a tool called Group Leads, which automatically pulls email addresses from group membership questions and adds them into your email list. If you're reading this you're in luck! We have special access to Group Leads preferential rates and you can save up to $700 just by being our reader, click there to read our review.
You can of course offer free opt-ins, value gifts or giveaways to collect member emails once they're in the group, but asking as part of the membership questions requires very little effort, and catches everyone joining. As your group grows, your email list does too.
We love email lists because they are yours. Should anything happen to your Facebook Group, your email list still gives you a direct and personal channel for contacting your members. Remember that your group does not belong to you and Facebook can remove it at any time.
Conduct market research
Most brands spend a significant part of their marketing budget on market research and focus groups every year but what if, in addition to more formal and structured surveys and market research exercises, you could also master the power of social listening by simply observing and listening in to the conversations of your group members?
Having access to a group of users or potential users of your brand and your competitors' means having the ability to crowdsource opinions and market research to inform any of your business decisions, including new product launches, new features or possible marketing campaigns. It's like having a permanent, always-on and sizeable focus group.
Whether you're looking to validate your ideas, enhance your products, undertake consumer research about your target audience, or get opinions on your branding (i.e. logo, website, colors), having a community who can provide you with this data is a fast and cost-effective way to source information.
What's more, even if you don't ask any questions or collect specific feedback on your products or a new feature, your group can be a great source of learnings and ideas.
Content creators can crowdsource information to guide the content strategy of their blog, and assess which partners to seek affiliate relationships with. Companies can observe conversations among customers about their challenges to launch new features or products.
Provide customer support or upsell
Communities are a natural way to gather your clients (or ideal clients) in one place, and to connect them with one another. This is a huge asset as it's a direct line of communication with your client base, whether you're announcing new offerings, wanting to crowdsource information as outlined above, or simply want to watch how they interact with each other.
Connecting your community means they can share their own ideas, discussion points, and rally together around a love for your services, brand, or products. And you remain top of mind all along.
If you sell products or services, groups can also be a cost-effective way of lessening the burden on your customer service channels. For example, members may post a question that another member may be able to answer all the while saving you an email to customer care.
Likewise, groups are also a great way to showcase features or user experiences which can increase the barriers to exit by making your customers use more of your product features. The more involved they are with your product, the lower the chance they will leave because it will become more indispensable. They may also choose to upgrade to a premium feature after seeing it in action from someone else's recommendation.
If you group is not exclusive to your product users, a it can be a great way to convince customers who are on the fence to finally purchase your product.
According to Kleiner Perkins, 78% of American consumers in 2018 used Facebook Groups to discover new products. Hearing unprompted reviews and testimonials with the authenticity of an online discussion can be the push they need to purchase.
Network
Online communities are one of the most powerful ways to network, whether you're looking for social networking (i.e. forging new friendships), or business networking (i.e. expanding your business contacts and professional relationships).
The nature of groups uniting people of similar interests provides a potential for networking which simply hasn't existed before. You can use them to not only connect with others, but build long-term relationships, and a solid reputation. Learn from peers, hear about tips you didn't know or simply mastermind with a group of people in your same journey.
Bring customers together temporarily
Groups can be a great way to bring your potential or existing customers together for a limited time only in what we can refer to as Pop-up events.
This may seem counter intuitive (why would you want to create a temporary community?) but can be useful in the case of an event, be it a concert, a product launch, the pre-launch of a new feature, etc.
Event organizers may create a pop-up group for the promotion and streamlining of information around the upcoming event and to bring customers together in a space that is separate from their main community so as not to cloak the feed with discussions that may only be relevant to a few members.
Facebook offers a lot of event promotion tools that are available to group admins and by creating a group you can leverage them to help your event reach more people, whether it is an online or offline event.
Those attending the event have the option to invite their friends, you have an effective channel of communication with attendees to keep them updated, and members are able to connect with each other before, during or after the event, which adds more value on the day when a connection is already in place.
Because of the temporary nature of events, these groups are usually short lived and may be archived when the event ends.
Support a cause
There are many groups on Facebook linked to causes or campaigns. Members join with a common set of moral values and beliefs and join forces to help change policy, organize grassroots efforts, or simply channel and organize change.
These groups are often started by concerned individuals but can also be created by NGOs or other organizations that have a strong CSR component to their businesses, such as social impact organizations.
Stay in touch with your team
Facebook Groups can be a great way to stay in touch with a diverse and dispersed team. You can make your group hidden so that only your staff is invited, and use it to discuss any topics, provide updates, deliver live trainings, etc. Facebook has also launched Facebook for Work and Work Groups which offer added benefits specifically aimed at companies.
Provide personalized value to VIP customers
A Facebook Group can also be a place for a select group of your clients to hang out with you or receive premium access to new features or support.
For example, if you are a business coach, a consultant, or an expert, you could include membership into a premium invitation-only group as part of the value added to your services or courses. Even companies can create groups for a set of beta testers of their products, for their ambassadors or even for their influencers.
Besides having a more general group for everyone interested in your topic, a VIP group where you spend more time and hangout with customers is a great way to reward your superfans or your best customers.
The difference between your more generalist group and the VIP one would be in the time you spend on it and on how generously you share your knowledge, or it can give them privilege or early access to your product or service. Your main group could remain more of a crowdsourced space where other members provide insight.
Discussions in your VIP group would be more in-depth and personal, with limited membership, and you could approach it as a mastermind group rather than as a community to connect and learn.
Types of Facebook groups
In the eyes of a user and from the point of view of privacy, there are two types of Facebook Groups: Private or Public. In turn, private groups can be set to Visible or Hidden. Hidden groups is what used to be called Secret Facebook Groups but they have since been renamed to Hidden.
On the other hand, in the eyes of Facebook and from the point of view of the content of a group, there are 7 group types as defined in your group Settings: General, Social Learning, Gaming, Job, Buy & Sell, Parenting and Work. This determines their purpose and also unlocks various features depending on your selection.
Private vs Public Facebook Groups
There are two privacy options for Facebook Groups: public and private (formerly public and closed groups). If you're creating a private group, you can adjust the settings to then have it visible or hidden from Facebook search (formerly called secret groups).
A public group is completely open and accessible to everyone on Facebook; all content is visible without first having to join (anyone can see who's in the group and what they post). That means you don't have to ask for admission to read the content but you do need to request to join to post or engage.
A private group is one where only current members can see the content, and membership must be requested and approved by an admin or moderator before a user is able to join. Invited members to a private group can see a preview of content for 30 days after they have been invited, though they won't have full access until they join.
It's important to really think about which settings will be best for the purpose of your group. While public groups can change to private after they've been created, you cannot change a private group to public.
This rule is there to protect the privacy of group members who joined a private group, so if you're creating a private group, this is a permanent decision.
Pro tip: If you decide to change a public group to private, all members will be notified and all other admins will have 3 days to reverse the change. You will receive the following warning:
Public groups vs private groups
Public and Private Facebook Groups have similar features and functionalities and the difference between the two lies with the privacy of the discussions had and the implications from that.
Public groups are more accessible, which could make it easier and quicker for your membership to grow. But the fact that all content is public also means that conversations tend to stay at a more superficial level and users will be more reluctant to engage.
Private Facebook Groups tend to foster stronger connections and a more loyal community, which can often be far more valuable despite potentially slower growth.
To aid with your choice of group privacy, we have put together the below table that compares private vs public Facebook Groups.
| Public groups | Private groups |
| --- | --- |
| Anybody can read the content. | Content is exclusive to members you personally approve. |
| To post or engage you need to be a member. | To post or engage you need to be a member. |
| Tend to grow faster because they are more visible, though this could backfire if the content is of low quality and members can see that from the onset. | Tend to grow slower because they are harder to find and you don't know what is behind the curtain, though this can be used to your advantage to attract members to a sense of exclusivity. |
| Members might be more cautious to engage because their posts are visible to everyone, even those outside the group. | Exclusivity fosters a more engaged community that is more willing to share personal experiences. Conversations can be more private. |
When deciding if you want your group to be private or public, think about what your members would want. The topic of your group may make this decision easy for you.
For instance, Solo Female Travelers is a female only group, and we don't admit those who identify as male. As such, a public group would not suit the topic.
Similarly, our group for Long Distance Relationships is one where members discuss highly personal, sensitive topics. One of the biggest concerns members have when they join is whether their friends and family (or their partner) will be able to see what they post, so it's a no brainer for us that this group has to be private (this type of group is also far more prone to attracting those who prey on vulnerable people, so taking control over the membership is absolutely essential).
However, if your group is about sharing contests and giveaways, a public group would be more conducive as you want posts to reach as many people as possible and care less about whether there is discussion or conversations within the group and whether users need to be a member to participate.
Make the call based on the nature of the group, and the nature of the members who would be joining.
If you believe your goals would be best served by offering members an exclusive space that allows them the security of expressing themselves safely, you should opt for a private group. Especially if monetization is a future goal, creating a barrier to entry means that you can create a community around only those who are genuinely interested, which means a high level of engagement, and higher levels of trust (which is essential for converting sales).
Don't underestimate the power of making people feel like they're part of an exclusive, special club; having a private group is quite often the key to improving the quality of a community.
Hidden vs visible for private groups
If you've chosen to create a private group, you'll then have the additional option of making it visible or hidden. If you make it visible, this means Facebook users will be able to find it via Facebook search and apply to join (though not see any content until they are accepted as a member).
If you make your private group hidden (formerly this was called a Secret Facebook Group), this means that only members of the group can find it, and new members can only be added at the invite of current members, admins, or moderators. Nobody outside the group will be aware of its existence, and nobody can apply to join.
The only way to grow this type of group is through direct word of mouth. It is highly exclusive, and takes many growth strategies off the table which would otherwise be available to you with a visible private group.
For example, you could use a hidden group for planning a private event which shouldn't be publicized, or as a way to stay in touch with family abroad after you have a newborn baby.
Once your group has been created you can change your settings from visible to hidden (and vice versa) as frequently and freely as you like. You might choose to do this if you want to make membership to your group only available for a certain period of time, or if you want to stall it for a while.
The option to change the visibility of your group appears under the Settings tab of your group admin tools as follows:
Facebook Group type and features
Facebook offers 7 different types of groups depending on the content and type of interaction between members, each of which gives you access to different tools and features to meet your group's needs (you can change your group Type as much as you like).
Once your group has been created, you can set the group Type in your Settings page, within the box called Add Extra Features.
Click on the pencil to edit the Type and all the options will open. If you don't set a group Type, your group will be General by default. Most groups will be either General or Social Learning but there are 5 additional groups that serve niche needs.
Below are the types of Facebook Groups you can have:
| Group Type | Description |
| --- | --- |
| General | This is the default group type and includes the standard set of tools and features. If you don't set a group type, your group will automatically be listed as General. |
| Buy and Sell | This means that posts to the group default as sales listings. You're able to set a default currency and collect all sales listings in one place in the group. |
| Gaming | This allows you to link your group to a specific game and host tournaments for members. |
| Social Learning | This allows you to create quizzes and lessons and track members' progress via the social learning units. Note that you can turn learning units on in a general group, without having to change it to social learning. |
| Jobs | This shows a list of all open jobs and includes templates with job salary, location and hours. |
| Work | Launched at the end of 2019, this type of group is best for workplaces. Members can post shifts they would like other people to cover, contact each other without having to be friends and share only the work related parts of their profiles. |
| Parenting | Unlocks three unique features aimed at improving the parenting experience. You can offer parenting badges so that members can choose to identify themselves to groups members in regards to what stage in the parenting journey they are in, set up one-on-one mentoring, and allow members to post anonymously. |
Setting the right group type is important for growth, as the user experience will directly align with what your members want, and there are several specific features that are only available to some types of groups.
Below are some additional details about the most common group types you might consider for your own.
Buy and Sell Facebook Groups
Buy and Sell groups are designed to make the experience of selling items and contacting sellers easy. Members can post an item by clicking on the Sell something grey button at the top of the group and then enter details of the item they have for sale.
The post will be published in the feed along with all photos submitted, and the price is specifically highlighted in a grey box along with a button for any member to contact the seller via Facebook Messenger. Facebook also allows you to post the item to the public Marketplace to facilitate its sale.
As soon a sell post is published, Facebook will review it to make sure it meets its guidelines.
Gaming Facebook Groups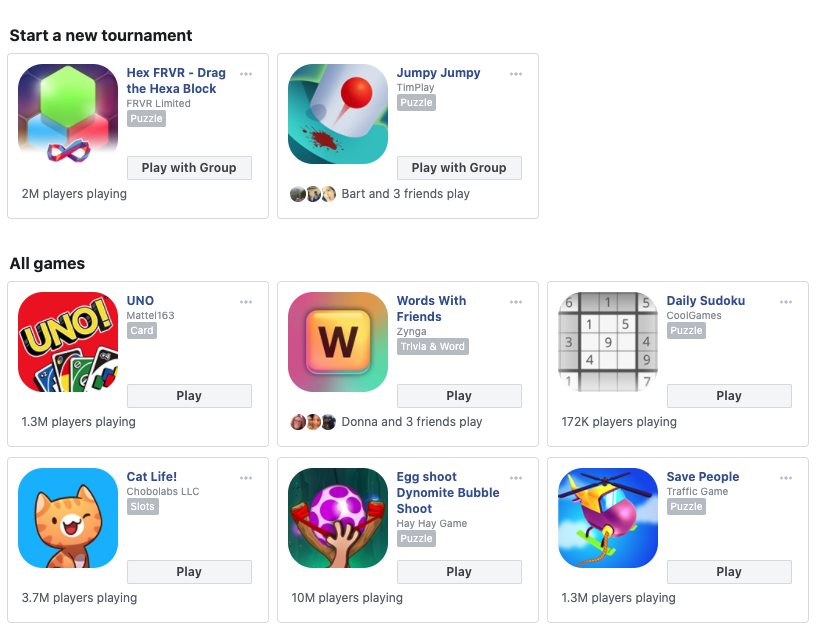 Gaming is one of Facebook's key pillars of growth along with Groups and Watch. Gamers, developers and creators can connect in one of the more than 300,000 gaming groups on Facebook where members can play games online or host online tournaments.
Social Learning Facebook Groups
Social Learning Groups were rolled out in April 2019, and were originally the way that admins could organize posts into units, which members could work through, and admins could track progress on.
This is still the way it is done today, however units became such a useful and popular feature that they were rolled out across other group types too. Being that you can activate units across other group types, including the default general group, changing your group to that of Social Learning would largely be a cosmetic choice, for members to see how your group is defined on your About page.
Job Facebook Groups
Jobs groups allow your group to act as a virtual job board, where any member can create a job which publishes allowing other members to apply. Listings include details such as job description, location, salary, and hours.
Once you have changed your group to a Jobs group, members who go to post will see three options; Create a job, Start discussion, and Photo / Video. This changes from what members are used to seeing in all other group types, as compared in the screenshots below:
When a member clicks to create a job, a sidebar opens to the left of the group, and it's a simple process of filling out the required fields, including who you post as (you can post as yourself, or any of the pages you manage), your contact preferences (email / website link), the job title, description, location, salary range, and hours (full time vs part time etc).
It's worth noting that Facebook does not allow for the option to Work From Home, and you can't post a job without choosing a physical location. To indicate a remote position you could add (Remote position) to the job title or description.
Members can then select the audience their job listing posts to, and will have the option to publish to their personal profile, as well as any groups they are part of which are listed as a Jobs Group (if a group is not a Jobs Group it will not show in the list of options). You can choose up to 5 groups to bulk publish your job in.
You can also then choose if you add your job to Jobs on Facebook, which means it will be listed publicly on the wider platform, and you can reach more applicants outside of the group itself.
If you have post approval turned on, member job postings will go to your pending queue for approval as would any other normal post. Once you publish, a condensed version will appear in the group feed where members can open for more details on the job and on how to apply.
Members can save job posts to their saved items, can edit their listing or close the job (or renew it) at any time.
Parenting Groups
Parenting Groups are intended for parents (but don't stop reading this part just yet!), and unlock three features aimed at improving the parenting experience, two of which are unique.
Parenting badges so members can identify themselves in regards to what stage in the parenting journey they are in.
Mentoring (also available in other groups).
The ability to allow members to post anonymously.
All members have the option to post anonymously, without revealing their identity. Their post will appear in the group without their name (their name will still be visible to group admins and moderators), but to the rest of the group they will show as Group Member.
Their identity remains hidden should the author choose to interact with the comments of others, on that anonymous post only (this also applies to any reactions they leave on other member comments).
What has been your experience with Facebook Groups?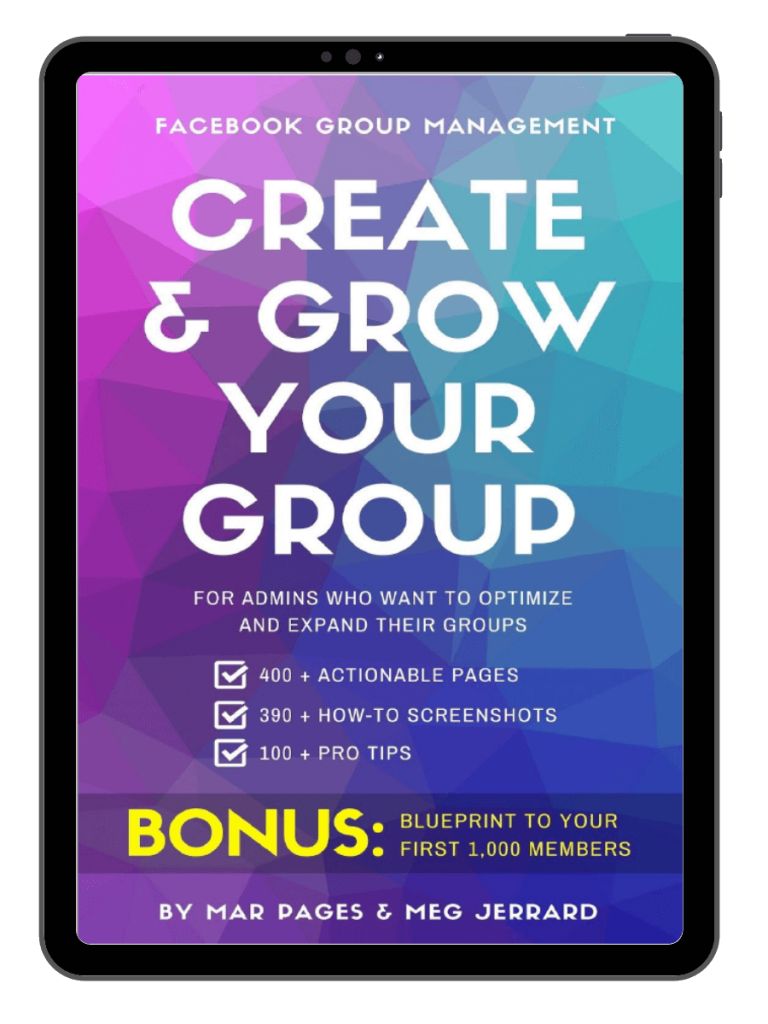 Learn Our Secrets to Growing 15 Groups to

100k + Members

! Get Our E-Book!
400 + Actionable Pages
390 + How-to Screenshots
32 Proven Unpaid Growth Strategies
My group has exploded using your strategies. A competing group actually asked me how I was growing so quickly!!
Quick answers to faq about facebook groups:
What is a Facebook Group?

Facebook Groups are separate online spaces on Facebook for users to connect over shared interests. Think of them as virtual living rooms where you can digitally interact with others who are just like you, or with whom you have something in common, whether that's a love for knitting patterns or a common health condition. 
What is the difference between a Facebook Group and a Facebook Page?

If a Facebook Group is a digital living room, a Facebook Page is a digital business card where you can publicly broadcast your contact details, content, business related news, promotional material and offers, and connect with a large number of fans who interact with your content. Click here for a comparison table.
What do Facebook Pages have that Groups don't?

Advertising / paid exposure, advanced insights, a business storefront, paid online events.
How can Facebook Groups help my business?

Facebook Groups may be the most important marketing channel for your business. They help you build authority, sell your products, have your content seen, grow your email list, conduct market research, provide customer support / upsell, network within your industry, bring customers / fans together, support a cause, and stay in touch with your team.
What is the difference between Private and Public Facebook Groups?

A public group is completely open and accessible to everyone on Facebook; all content is visible without first having to join (anyone can see who's in the group and what they post). That means you don't have to ask for admission to read the content but you do need to request to join to post or engage. 

A private group is one where only current members can see the content, and membership must be requested and approved by an admin or moderator before a user is able to join. Invited members to a private group can see a preview of content for 30 days after they have been invited, though they won't have full access until they join.
Can you make a Facebook Group secret?

If you've chosen to create a private group, you'll then have the additional option of making it visible or hidden. If you make it visible, this means Facebook users will be able to find it via Facebook search and apply to join. If you make your private group hidden (formerly this was called a Secret Facebook Group), this means that only members of the group can find it, and new members can only be added at the invite of current members, admins, or moderators.