Your Facebook Group link or URL is one of its most visible parts after the About page, name and cover image, and it is also fully customizable. It is the only unique identifier for your group online (two groups can have the same name) and it can help you rank higher on Facebook's search results.
In this article, we will talk about how to change your Facebook Group URL to a custom address and why you should do it.
Why you should customize your Facebook Group URL
Like any website or business online, you can name your group practically anything you'd like but your group's URL needs to be unique.
That is why Facebook automatically assigns a numeric URL to each group when it is created, the same way it assigns a numerical URL to a new Facebook profile or page. This means that the last or the 3 parts of your group's URL is the one you can customize.
After the numerical number is assigned, we strongly recommend that you go and edit this to create your group's vanity URL. The case for customizing your URL is best understood with an example. Of the below two links, which would you be more likely to click on?
https://www.facebook.com/groups/solofemaletravelers/
https://www.facebook.com/groups/198556510962482/
With the top URL, you know exactly what it is you're clicking on as opposed to the second URL, which is a mess of numbers and could lead you to anything. The first URL is far easier to remember than the second, and the strength of the branding has a higher chance of empowering people to click through.
Why should you customize your Facebook Group URL? We recommend you do it because:
It helps you build trust with potential members. The URL acts as an additional element of your group that complements its name, cover image and description.
It gives you an additional signal in search results rankings within the platform. Facebook's search algorithm is relatively simple but it does look at a group's name, URL and description.
It is easier to remember on offline mediums. If you're wanting to advertise your group on newspapers, flyers, brochures, etc., a personalized URL is more memorable and easier to type at a later stage.
It is easier to remember when mentioned verbally. If your group is mentioned on TV, Radio, or by word of mouth, a list of numbers will be impossible to remember. Facebook.com/groups/solofemaletravelers is something people can actually say in conversation – facebook.com/groups/198556510962482/ is not.
It gives you a heads up against other groups. Any group that may be created afterwards with your same name or a similar one will not be able to claim your same URL because each is unique.
In brief, not customizing your URL can greatly limit your potential for growth.
How to change your Facebook Group link
By default, when you create a group, you will get a numeric identifier at the end of the generic Facebook URL that looks like this: www.facebook.com/groups/[numerical identifier].
In order to customize that, you need to go to your groups' Settings and then scroll to Customize Group. The first option you will see is Web address also known as your Facebook Group vanity URL.
To customize your URL, click on the pencil icon under Web Address and type the URL you want for your group. If a URL is taken, it will show up in red as seen below. If a URL is available, you'll get the green tick, and can hit Save to make the URL live:
Things to consider when changing your Facebook Group URL
Before you change your group's URL, you should take a moment to think about it carefully for several reasons:
You should make sure that your URL is easy to remember and aligns with the rest of your group's identity, its purpose, the business it may be associated to and the type of members you want to attract. If the name of a group and its URL do not match, this may confuse potential members and send contradictory signals.
Like with your group's name, you should try not to use too many acronyms that are hard to decipher but should also not make the URL so long that it gets clipped, especially on Facebook.
You can only chance the URL and group name every 28 days.
Once you have more than 5,000 members, you won't be able to change the URL anymore (you can still change its name every 28 days).
Every time you update the group's URL you'll have to remember to update it anywhere where it has been mentioned including external websites who may have linked to it and other locations offline. While Facebook does redirect, some other platforms (like your email marketing tool) may not.
Learn Our Secrets to Growing 15 Groups to

100k + Members

! Get Our E-Book!
400 + Actionable Pages
390 + How-to Screenshots
32 Proven Unpaid Growth Strategies
My group has exploded using your strategies. A competing group actually asked me how I was growing so quickly!!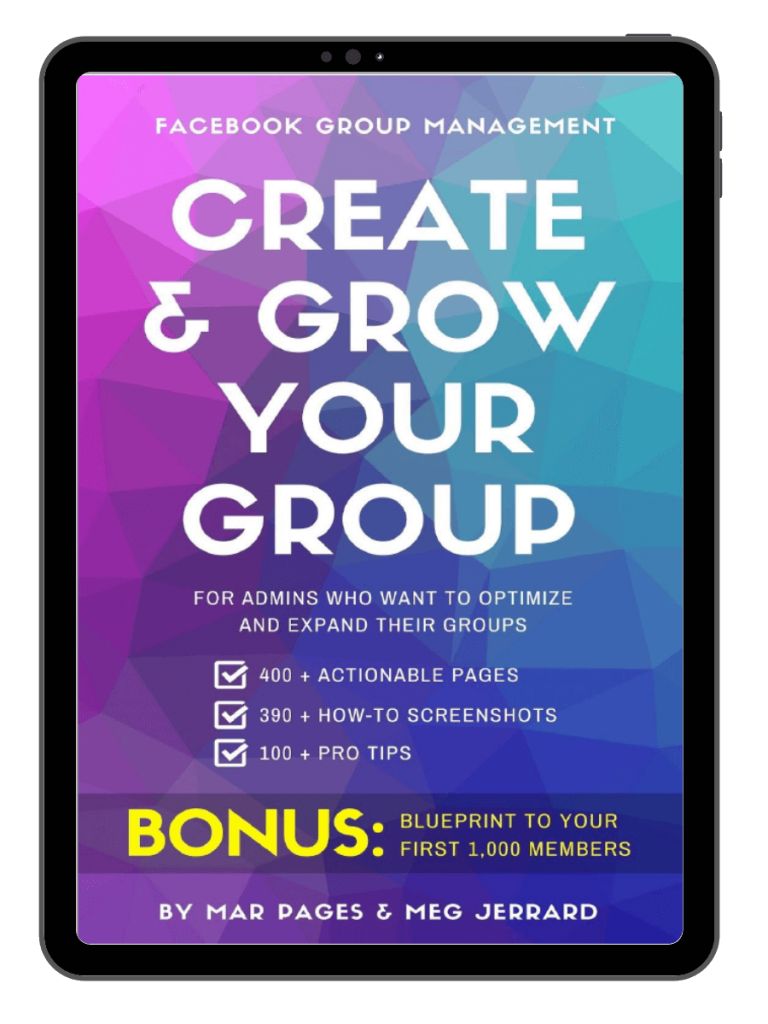 Frequently asked question about Facebook Group URLs
How often can I change my Facebook Group URL?

You can change it every 28 days but will not be able to do so after your group has 5,000 members.
Why should you create a custom Facebook Group URL?

Customizing your group's URL makes it easier to remember and is useful when sharing it verbally or offline. It is also another signal that can help your group rank in search results on the platform and builds trust with your members versus the generic numerical address that Facebook assigns every new group. As a unique identifier for your group, it is also recommended that you claim the best URL for your type of group first so other groups created later on cannot capitalize on it. Two groups can have the same name but not the same URL.
How do I change my Facebook Group URL?

Go to your group's Settings, scroll down to Customize Group then click on Website address and type the last part of your groups URL that will appear after www.facebook.com/group/